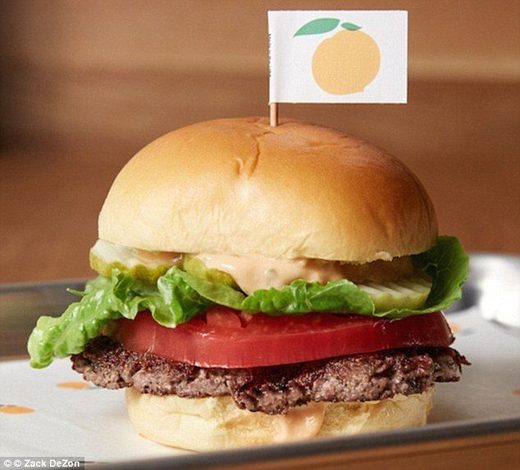 With a brown exterior and juicy pink inside, this burger looks like it is anything but plant-based.
But the Impossible Burger is 100 per cent meat free, despite the fact that it 'bleeds' like a beef patty.
Impossible Foods, the firm behind the burger, has announced that is is moving into a huge new factory that will soon be capable of producing one million pounds of the burgers every month.
Impossible Foods is backed by several big names, including Bill Gates, founder of Microsoft, and an arm of Google.
The main ingredients in its vegetarian burger are wheat protein, coconut oil and potatoes. But the key magic addition is heme, which has been described as 'plant blood'. The iron-rich compound is abundant in real meat, but can also be grown from soya.

The company claims that the heme makes the company's burgers 'smell, sizzle, bleed, and taste gloriously meaty'.
Impossible Foods held a ceremony this week, in which it announced its move into a huge factory in East Oakland, California. The factory is 67,000 square feet, and the firm expects to churn out over one million meat-free burgers there every month, starting this summer.
According to Crunchbase, Impossible Foods has already raised over
$182 million (£145 million).
Last year, the firm started selling the Impossible Burger in three US restaurants, but the expansion to the factory will see the burgers being sold throughout the US - and maybe even further afield in the future.
Speaking to the
San Francisco Chronicle
, Pat Brown, CEO of Impossible Foods, said: 'In our long-term plan, we will be ubiquitous.
'Anywhere that consumers go to buy meat, we intend to be there, competing side by side.'
The rise of the meat free burgers was recently revealed by The
Grocer
magazine, which suggested families would be more likely to buy these than products made from meat grown in the laboratory.
Three years ago, food scientist Hanni Rützler held a London press conference to reveal - and eat - the world's first ever lab grown hamburger.
Research found only 16 per cent of people said they would be happy to try this sort of cultured meat, and half refused even to consider it.
Some 56 per cent were concerned about the use of chemicals in making lab-grown meat, 48 per cent felt cultured meat wasn't 'natural' and 29 per cent suspected it would not taste good.
Head of consumer and retail research at Harris, Lucia Juliano, said: 'We are quite simply opposed to the idea of cultured meat without knowing much about it.'
But she told the
Grocer
that public attitudes are shifting, saying: 'Even in the past two years I've seen the public conversation take a more positive direction.
'A few years ago you'd hear "Frankenmeat" or "test tube meat". Now the language is more scientifically grounded.'