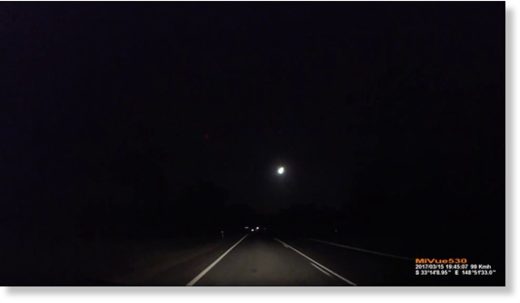 A meteor fireball blasting to Earth was spotted near Orange on Wednesday night.
Video footage of the bright light with a fiery tail was identified by skywatching expert Rod Somerville.
"That one to me looks just like a nice bright meteor, known as a fireball," he said.
The footage was taken from a car travelling on the Escort Way near Boree about 7.45pm and uploaded to YouTube by David Bell.
Mr Somerville, president of the Orange Planetarium Inc. said it was difficult to say where it would have landed as meteors travelled at up to 30,000 km/h.
"It's deceptive because it looks like it is coming down.
"If it did land it could be hundreds of kilometres away.
"They tend to move very fast."
He said most meteors were not very big.
"That one could have been the size of your fist, they are quite deceptive."
Mr Somerville said he had a report of what appeared to be space junk south-east of Orange around the same time on Wednesday night.
"There was a report of seeing two close together, it was very bright with a fiery tail."
He said there were plenty of meteors in the skies.
"There is an awful lot of dust in the solar system, mainly left behind by comets."
"You could see 8-10 meteors a night if you were to lie down and look at the sky out of the lights around Orange."
People took to social media with reports of seeing the meteor in Orange.