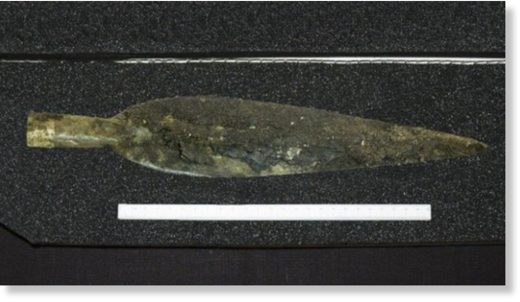 A gold-decorated bronze spearhead has been heralded as a discovery of international significance by the archaeological team that unearthed it at Carnoustie. The weapon was part of a hoard uncovered at Balmachie last year during an archaeological evaluation in advance of Angus Council's development of two grass football pitches.
GUARD Archaeology's project officer Alan Hunter Blair summed up the excitement of his team. He said:
"The earliest Celtic myths often highlight the reflectivity and brilliance of heroic weapons.
Gold decoration was probably added to this bronze spearhead to exalt it both through the material's rarity and its visual impact.
"It is one of only a handful of gold decorated bronze spearheads that have been found across Britain and Ireland, so this find alone is of international significance."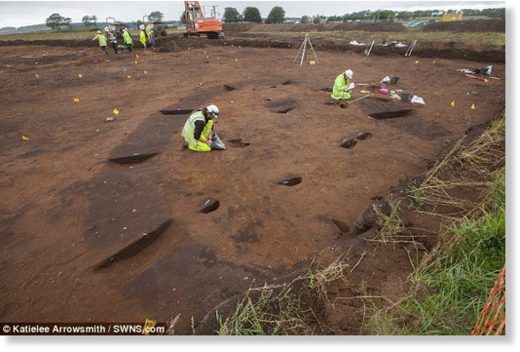 The spearhead was found alongside a bronze sword, pin and scabbard fittings in a pit close to a Late Bronze Age settlement that was excavated by GUARD Archaeology on behalf of Angus Council. This hoard of metalwork is a major addition to Scottish Late Bronze Age archaeology. Each individual object is significant, but the presence of gold ornament on the spearhead makes this an exceptional group. Within Britain and Ireland, only a handful of such spearheads are known - among them a weapon hoard found in 1963 at Pyotdykes Farm to the west of Dundee. These two weapon hoards from Angus - found only a few kilometres apart - hint at the wealth of the local warrior society during the centuries around 1000-800 BC.
The Carnoustie discovery is elevated to international significance by the extremely rare survival of organic remains - a leather and wooden scabbard (probably the best preserved Late Bronze Age sword scabbard ever found in Britain), fur skin around the spearhead, and textile around the pin and scabbard. Such organic remains rarely survive on dryland sites.Furthermore, the hoard is not an isolated find, but was buried within a Late Bronze Age settlement.
Once the excavation is complete, it will be possible to study the archaeological context of the hoard and reveal new insights into the local Bronze Age community that buried it. Not least, the longevity of settlement at Carnoustie. The excavation also revealed the largest Neolithic hall so far found in Scotland - a building dating to around 4000 BC that may have been as old to the people who buried the weapon hoard, as those people are to us.
Angus Council communities convener Donald Morrison said: "It is clear that Carnoustie was as much a hive of activity in Neolithic times as it is now. The discoveries made on land destined for sporting development have given us a fascinating insight into our Angus forebears and I look forward to learning more about our local prehistory." Vice convener Jeanette Gaul said: "To make such a find while preparing to create sports facilities for Carnoustie came as a huge surprise to us all. We've since learned it is of national and, indeed, international importance. But I am pleased that the archaeologists have involved local young people in the excavation project and are offering us all an insight into Angus' distant past."
Alan Hunter Blair said: "The hoard of artefacts, which are around three thousand years old, is the find of a lifetime. It is very unusual to recover such artefacts in a modern archaeological excavation, which can reveal so much about the context of its burial. "Owing to the fragile nature of these remains when we first discovered them, our team removed the entire pit, and the surrounding subsoil which it was cut into, as a single 80 kg block of soil. This was then delivered to our Finds Lab where it was assessed by a specialist Finds Conservator to plan how it could be carefully excavated and the artefacts conserved."
Beth Spence, the GUARD project officer who undertook the laboratory excavation of the hoard, added: "Organic evidence like Bronze Age wooden scabbards rarely survive, so this just underlines how extraordinary these finds are." Claire Herbert of Aberdeenshire Council Archaeology Services, archaeological advisers to Angus Council, said: "The archaeology uncovered at Carnoustie is undoubtedly of national and international significance and will certainly further enhance our knowledge of the prehistory of this area, providing an invaluable opportunity to learn more about how people in Angus lived in the Neolithic and Bronze Age."