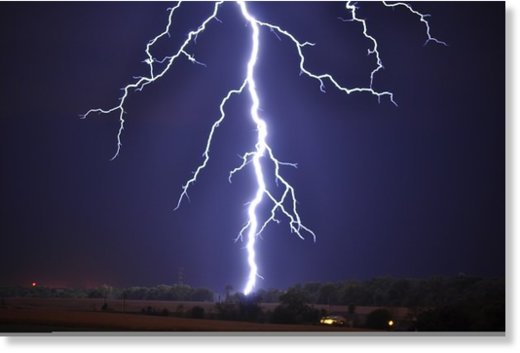 Lightning struck a church in Tsomo, killing four congregants and injuring four others including the head reverend, shortly after Sunday's sermon.
Among those killed were the church society steward and three women. The injured included the church minister, his daughter, and an evangelist.
The lightning struck the United Methodist Church of Southern Africa's Luzuko Society Church hall at KuNgceza village near Tsomo on Sund ay, killing church steward Justice Dlabane, 76, and congregants Nozuko Ntozini, 52, Noright Qhesa, 60, and Nophelo Mvikweni, 56.
The church's circuit secretary, Nomgcobo Ncoko, said: "It was a disaster and a miracle. I thought it was judgment day. I saw a strong and fearsome bolt of blue lightning and a ball of fire striking where the society church steward was sitting.
In series of bizarre firsts:
The disaster struck soon after Reverend Zanoxolo Ngcephe's first sermon and on his first day as the church's Tsomo circuit superintendent.
The sermon was the first to be delivered to the seven societies falling under the circuit he now leads; and
lThe church hall was new and the sermon was the first to be delivered in the building.
Reverend Zanoxolo Ngcephe said that at 2.30pm, shortly after he had delivered his sermon, they noticed a big storm coming.
The electricity went off and the candles went out.
"I had already left the pulpit and I was sitting at a table flanked by two men, a church steward on the right and an evangelist on the left.
"As we talked we heard a big bang and I felt burning sensation in my feet.
"I fell unconscious and when I regained consciousness I noticed that the church steward was injured. He was not breathing.
"The evangelist was also injured and struggling to breathe.
"The church was filled with smoke and all the congregants, about 50 of them, had been flung across the floor.
"The smoke made me think the church hall was on fire."
He said his daughter Sinethemba Ngcephe, 13, and wife Nomakula were slightly injured.
"I think it missed Sinethemba by inches as there were holes in the wall near to where she had been sitting," he said,
He rushed outside the church to get help.
"I waved down passing cars and another priest from the Anglican church and villagers assisted us.
"The priest calmed my congregants, some of whom were still confused and trying to run away in all directions," said Ngcephe.
The injured congregants were rushed to Butterworth hospital where they were treated for burns.
He was worried about how the families of the bereaved would bury their loved ones as they had no income and struggled to make ends meet.
Queenstown police spokesman Colonel Gcinikhaya Taleni said an inquest had been opened.