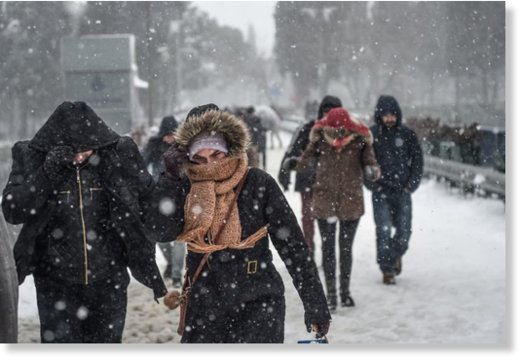 A heavy snowstorm paralysed life in Istanbul on Saturday, with
hundreds of flights cancelled and the Bosphorus closed to shipping traffic.
The snowstorm dumped almost 40 centimetres (16 inches) of snow in parts of the Turkish metropolis
overnight, causing havoc on roads as travellers sought to leave the city for the weekend getaway.
For those not travelling, the snow however provided a rare chance to see Istanbul's famous minaret and dome-studded skyline caked in a white layer of snow.
Flag carrier Turkish Airlines (THY) cancelled some 500 flights from both the main Ataturk and Sabiha Gokcen airports, with the snow also bringing poor visibility.
Four THY intercontinental flights -- from India, Maldives, South Africa and Vietnam -- bound for Istanbul were diverted to the southern city of Gaziantep north of Syria, the Dogan news agency said.
Coastguards ordered a halt to shipping traffic through the Bosphorus Strait -- one of the world's busiest sea thoroughfares -- in both directions due to the poor conditions.
The municipal ferry company Sehir Hatlari which handles the regular passenger crossings between the European and Asian sides of the city announced that all its routes had been suspended for the day.
Forecasters predicted that the snowstorm would continue throughout the day before dwindling in the evening.
Temperatures well below freezing were expected in the days to come.
Source: AFP