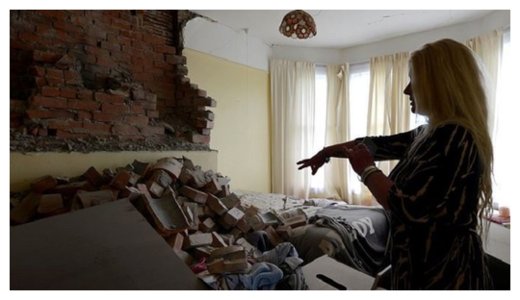 They're not called the shaky isles for nothing.
New Zealand experienced a record breaking 32,828 earthquakes in 2016.
There were also 80,000 landslides, two tsunamis and a volcanic eruption to cap off a year described by GeoNet as "the groundbreaker".
The previous biggest year was 2011 - the year of the deadly Christchurch earthquake - when 29,000 were recorded, compared to the usual average of 20,000 a year.
"You'd be hard pressed to find someone who wasn't impacted, in some way, by earthquakes in New Zealand this year," GeoNet's Sara McBride wrote in a blog post.
Usually quake-immune Auckland felt the ground rumble during the first of two magnitude seven quakes.
Normally the country only gets one quake a year above a magnitude seven, so when a 7.1 hit the northeast coast in September causing minimal damage on land, many thought that box had been ticked.
But earthquake-weary Christchurch and the often-shaky capital Wellington were rocked again by the devastating Kaikoura magnitude 7.8 earthquake just two months later.
"In two-and-a-half minutes, the earthquake moved across numerous faults, its seismic energy pooling and then overflowing onto one fault after the other, moving similar to the famous "Bucket Fountain" in Wellington," Ms McBride said.
"Along the way, the earthquake ruptured faults, tore through the earth and raised the seabed off Kaikoura. From Christchurch to Wellington to Nelson, the whole part of the upper South Island and Lower North Island were impacted."
That quake triggered more than 250 million hits on GeoNet's website on November 14 alone.
Two people died and hundreds were displaced from homes and businesses. Land slips blocked State Highway 1 access to Kaikoura while the KiwiRail track was lifted and thrown, in some places into the ocean.
Ms McBride said the quake won't go into the record books for its size, rather because of its unique rupture process and the slow-slip earthquakes it triggered.
"We had only rarely seen an earthquake behave quite like this one...New Zealand breaks new ground again!" Ms McBride said.
GeoNet predicts this year will be "mostly harmless" but makes no guarantees.
"Nature is a terrible project manager."
EARTHQUAKES BY NUMBERS IN 2016:
* 32,828 earthquakes
* 2 magnitude 7.0 plus
* 10 magnitude 6.0-6.9
* 122 magnitude 5.0-5.9
* 80,000 landslips
* 2 tsunamis
* 1 volcanic eruption