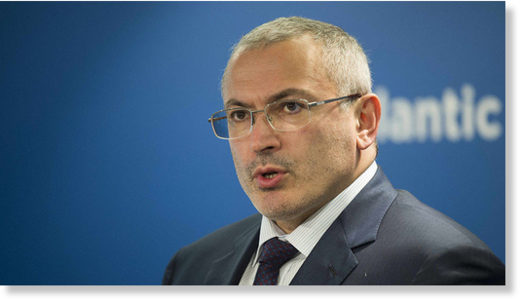 An Irish court has granted an application by Russian tycoon Mikhail Khodorkovsky to release €100 million ($105mn) of his funds that were frozen after a request by Irish fraud investigators in 2011.
Judge Timothy Lucey made the ruling at a sitting of Dublin District Court on Wednesday, following a four-day hearing in November.
In coming to the decision, Lucey said the burden of proof was on Khodorkovsky to prove there were no grounds for a freezing order and that the court's decision had to be based on evidence, which is something that Khodorkovsky had provided plenty of, the court said.
Lucey said the court believed the applicant's evidence and was "satisfied that there are no reasonable grounds to suspect money laundering," so was revoking the order to freeze the funds.
When weighing up the decision, the court said it seemed there had been an "imbalance of evidence," and detailed how Gardai (Irish police force) appeared to have ignored a vast amount of material provided to them, which, the court said, may have been because the Gardai thought they didn't have to do anything as the burden of proof was on Khodorkovsky.
Lucey did acknowledge,
however, that weight had to be given to the sworn evidence from Gardai that "on the balance of probabilities," there is an ongoing investigation into the source of the funds and any potential money laundering.
Speaking afterwards, Khodorkovsky welcomed the decision of the court, saying it would "upset the trolls."
"Irish court supported my application to unfreeze account blocked since 2011. Lies about laundering exactly that," he tweeted.
The Irish-domiciled funds, which are in trusts, have been frozen since March 2011. The Irish state has renewed its freezing of the assets every 28 days for the past five-and-a-half years.
During the hearing, Senior Counsel for the Garda Bureau of Fraud Investigation, Michael McDowell, argued that in order for the court to grant the release of funds it must be satisfied that there is either no ongoing police investigation or no reasonable grounds to suspect money laundering.
McDowell read a sworn statement from a police officer involved in an ongoing investigation into Khodorkovsky, his business partner Platon Lebedev and corporate entities associated with them. The officer said Irish police spent four days in Moscow as part of their investigation.
Remy Farrell, Senior Counsel for Khodorkovsky, told the court the Irish police had cast the Irish state in the role of "Putin's lapdog," something which Lucey denied was the case during Wednesday's ruling.
He said,
"An Garda Siochana [Ireland's police force] have acted as the instrument of a universally-discredited Russian regime," arguing that the only evidence of criminal conduct was the Russian conviction which he described as internationally considered politically motivated.
Throughout the hearing the judge expressed concerns over the length of time the assets had been frozen and the lack of transparency regarding a police investigation.
"I've been asking all along who's going to be charged here and what's it all about," he said.
"[It's] just as well it wasn't a two-year old race horse - it would be dog meat by now," he quipped at one point.
Yukos founder Khodorkovsky was convicted of tax evasion in Russia in 2005 and sentenced to nine years in prison. In 2009 he was charged with embezzlement and money laundering and sentenced in 2010 to 14 years in prison, minus the term that he had already served.
Khodorkovsky was pardoned by President Vladimir Putin in December 2013 as his mother was ill.