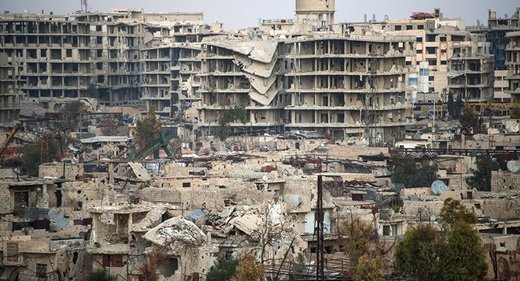 The first group of militants has left the Syrian town of Khan al-Shih southwest of Damascus in the last 24 hours within the framework of a local ceasefire agreement with government forces, a military source told RIA Novosti Tuesday.
The evacuation agreement between militants and government forces was proposed on Saturday. A 48-hour ceasefire was announced, after which the militants were allowed to leave for rebel-held territory in the Idlib province in the north of the country.
"The first group has already left Khan al-Shih together with their families. The rest will leave on Wednesday, they will go to the city of Idlib," the source said. The same source said on Monday that the evacuation of more than 2,500 people from Khan al-Shih had started.
The Khan al-Shih offensive was launched by the Syrian army on October 1. Militants undertook numerous attempts to break the government forces siege throughout the several weeks of the offensive but ultimately failed despite being backed by artillery fire.
On November 21, militants surrounded by the Syrian government army southwest of Damascus accepted the government's conditions for surrender, demanding Jabhat Fatah al-Sham (formerly al-Nusra Front) militants to leave their positions in Khan al-Shih and give up their weapons.
In case of successful withdrawal of the militants from this area, the army would take under control almost all settlements southwest of Damascus.
Syria's civil war has been raging for over five years, with armed opposition and terrorist groups, including Jabhat Fatah al-Sham and Daesh, both outlawed in many countries, including Russia, fighting against government forces loyal to President Bashar Assad. Violence around the capital started in 2012, when rebels infiltrated the capital's suburbs from the surrounding countryside.