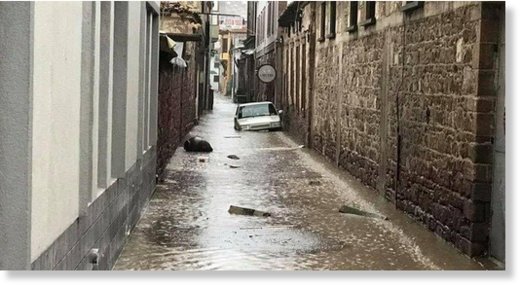 Starting Monday, heavy rain took hold in western Turkey, as it enters a period of rainy spells after little precipitation in the first two months of autumn.
Unprecedented rainfall in some western towns led to small-scale floods on Monday and Tuesday while snowfall is forecast for central and northwestern Turkey on Wednesday.
Balıkesir province was among the hardest-hit by flooding. A night of rainfall triggered floods in the town of Gömeç, where a bridge collapsed and flocks of sheep drowned; no other casualties were reported. Rivers breaching their banks threatened residences and shops in the small town. Ayvalık, a popular seaside town in the province, was also heavily inundated after downpours that started on Sunday increased in intensity late Monday.
Schools in the town were closed Tuesday as rainfall accompanied with strong winds damaged buildings, felled trees and blocked access to several streets. Some residents were trapped in their houses for hours, long after downpours hit early Tuesday.
Elsewhere in Balıkesir,
dozens of vehicles were trapped on a highway connecting the cities of Çanakkale and İzmir as floodwaters blocked the road.
In İzmir's Dikili district, south of Balıkesir, 10 people trapped in their residences were rescued by crews while a large number of houses and shops were inundated with floodwaters.
The Aegean region, the hottest area in the country, started the week with rainfall and faces the prospect of a considerable drop in temperatures today, from the current 15 degrees Celsius to 9 degrees Celsius. For Istanbul, meteorology experts have forecast light snowfall starting from midnight while the first snowfall of the season for western Turkey was yesterday in Edirne, a province bordering Bulgaria and Greece.