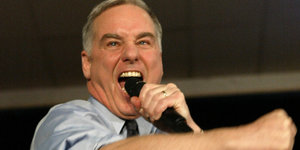 Howard Dean blames the FBI reopening of the Clinton email server investigation on...Vladimir Putin.
Hillary Clinton surrogate and former DNC former chair, Howard Dean was the first Democrat to invoke Putin's name in association with the
FBI's decision to resume the probe
into Hillary Clinton's email server investigation.
Don't be surprised if you begin seeing the Clinton crime syndicate start fictitiously connecting Comey to Russia to Putin to Assange and somehow back to Trump.
The "Putin blame game" did not take long this time around.
The Duran was placing wagers as to when Putin's name would be invoked so as to divert and distract from another Hilary Clinton crime.
Peter Lavelle
called it with a
"Saturday Putin name drop"
prediction...though The Duran's
Vladimir Rodzianko
called the method of Putin invocation saying,
"we will see Putin's name dropped in some idiot's twitter stream."
That idiot is Hillary Clinton crony, and 2004 Democratic Presidential nominee, Howard Dean who tweeted on Saturday...
It is not surprising to see such stupidity coming out of a man most famous for this hysterical yelp that literally cost him the presidential nomination in 2004...

Comment: Painful...


More importantly, exposing the Democratic Party's hypocrisy
is Zerohedge
, which went back in time just a few months to see what the president, politicians and the media thought of Jim Comey when he let Hillary Clinton off the hook...
President Obama: "He's got the resume, but more importantly, a strong sense of right and wrong."

Democratic National Committee: "We are pleased that the career officials handling this case have determined that no further action by the Department of Justice is appropriate."

CNN: "If there is a silver lining to this episode from a public perspective, it is that the investigation itself appears to have been conducted without fear or favor. Comey is regarded as a straight shooter by both sides of the aisle. Who can forget that as deputy attorney general for President George W. Bush, it was Comey who raced into a hospital and stopped top administration officials from persuading a sick attorney general to bless their wiretapping schemes? No one should forget that President Barack Obama appointed Comey, a registered Republican, to serve as FBI director. Americans' trust in public officials and public institutions has fallen abysmally, as we all know. So far as we can now tell, the country in this instance has been well served by a leader and an FBI that has been diligent, hard-working and fair. Embittered partisans will disagree, but for my book, the FBI seems to have gotten this one right."

Richard Blumenthal, a former U.S. attorney for four years and former state attorney general for 20 years, said he has complete confidence in the integrity of FBI Director James Comey, a former Connecticut resident who made the announcement Tuesday: "He's a former colleague and a friend, and most important, his record demonstrates that he has both the capacity and the determination to make judgments about criminal matters with the highest degree of integrity and professionalism. So, I trust his judgment, and I believe it will have a great deal of credibility with the American people."