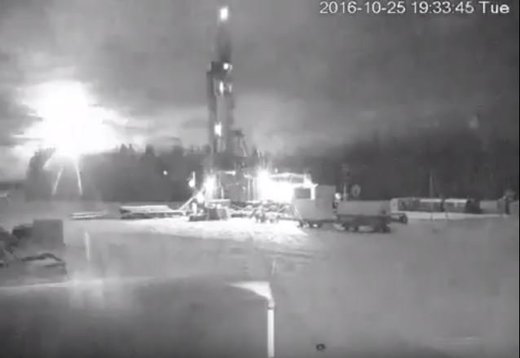 According to
baikal-daily.ru
there have been numerous reports of a bright meteor fireball exploding over the Buryatia region of Russia on 25th October. Some reports on social media sites (translated by google) include:
"For the Barguzin ridge, close to Lake Baikal, just fallen meteorite !!! It was as bright as day five or six seconds! Sensation!"

"Around 19:00 .. it fell from the sky shone brightly Kameta green (for the size is quite large)"

"Somewhere at 19:30 in the sky flew whether comet whether a meteor. There was a powerful flash. Who else saw? Kurumkan!"

"Have you seen this ??? I went at 19:40 on a grandmother and suddenly glow in the sky at the likeness of a meteorite or green satellite"

"Today, about 19: 50, was a strange flash in the sky. Flew what looked like a comet with a green tail."

"Has anyone seen about 19:40 dropped something like a meteorite seen in gurulbe fell apart Sotnikovo bright green color is very beautiful, no sound, nothing."
The Republic of Buryatia is located in the south-central region of Siberia along the eastern shore of Lake Baikal.