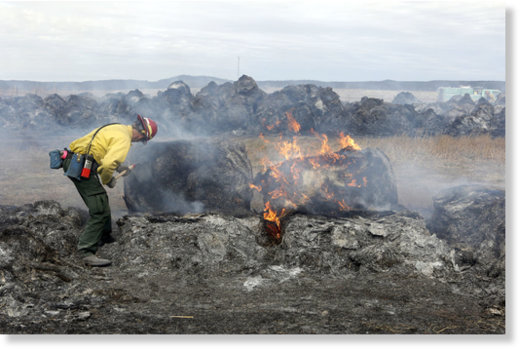 A massive prairie fire that consumed an estimated 48 square miles of private and public ranch lands east of Rapid City — and which was mostly contained but still burning on Monday —
led to the loss of ranch outbuildings, caused a pair of interstate traffic wrecks, killed at least 135 head of cattle and consumed untold amounts of grasslands by Monday afternoon.
The blaze, called the Cottonwood Fire, began around 1 p.m. Sunday and was initially battled by 300 firefighting personnel. The fire caused smoky skies and upset ranching activities across a wide swath of land about 75 miles east of Rapid City in an area between Interstate 90 and U.S. Highway 14.
No one had been injured by the fire or while battling it as of late Monday; the fire was reportedly 75 percent contained by 4 p.m. Monday, and potential rain in the area Monday night might help the firefighting cause.
Officials located the fire's point of origin and an investigator confirmed Monday that the fire was human-caused, but no specific cause was announced as the investigation continues, said Rapid City Fire Department Lt. Jim Bussell.
Sunday's fire-ripe combination of unseasonably high temperatures, low humidity and winds gusting as high as 50 mph pushed flames swiftly across the prairie, scorching most everything in its path.
"Under these conditions, the fire spread quickly," Bussell said in a Monday news briefing.
The fire scorched an estimated 48 square miles of private land and part of the Buffalo Gap National Grassland, southeast of Cottonwood and north of I-90.
A Pennington County Type 3 incident management team took over command of the fire at 6 p.m. Sunday.
About 100 personnel bolstered fire lines and quelled hot spots on Monday, down from the nearly 300 firefighters from 10 western South Dakota counties that were fighting the fire at its peak.
Pennington, Lawrence, Meade, Custer, Haakon, Jackson, Jones, Mellette, Bennett and Stanley counties all sent resources, as did the American Red Cross, Bussell said.
Officials were still trying to determine the number of structures burned as of late Monday afternoon. No primary homes have reported lost but many outbuildings are believed to have gone up in flames.
Early reports of livestock losses were starting to come in Monday.
The Jackson County Sheriff's Office reported 137 cattle lost as of Monday afternoon. Those numbers are expected to rise in the coming days.
As the wind fueled the fire on Sunday, rancher Cliff Poss said he could only sit atop a hill and watch as flames surrounded his ranch southeast of Cottonwood.
"We could see the fire was really close to our house and we figured we could lose it," Poss said Monday as he fixed a corral fence, held up by a still-smoldering fence post. "There is no way you can stop that kind of fire."
Quick thinking by Poss and his neighbors to cut fences and let his cows outrun the flames helped minimize the loss from the raging fire. Still, Poss thinks other ranches may not have fared as well.
Bright yellow cottonwood trees, changing color for fall, stood out as a vibrant contrast against the miles of blackened fields. Ranchers worked frantically fixing fences and rounding up wayward cattle that escaped the blaze.
Wooden fence posts continued to smolder and cattle kicked up dust as they wandered through charred fields on Monday morning.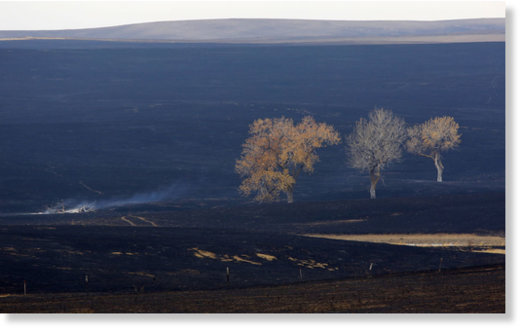 Luckily, through the efforts of firefighters and neighbors, the Poss' home was saved but he and his family still lost plenty.
Poss said several outbuildings burned along with hay that was supposed to be used to feed his herd through the winter.
"I'm probably going to end up selling 150 cows," Poss said, noting that was would be about half his herd. "I don't have hay or grass."
Poss said he drove the length of the fire Monday morning and it was 21 miles long and as much as 6 miles wide.
Jerry Tucker, a ranch hand near Cactus Flats on the south edge of the Cottonwood Fire was frantically fixing a fence in a scorched field Monday morning. The cattle company he works for was planning on moving some of the herd to the small pasture Tucker was working on.
"They ain't got nothing to eat," Tucker said of the cattle in the area after the fire.
"The wind was so strong they couldn't do nothing," Tucker said of fire crews trying to control the blaze on Sunday. "It was out of control."
Tucker pointed at a ranch to the north and said, "I was afraid that old man's house was going to burn up but I guess they got a truck in the yard and were able to wet it down."
In addition to structures burned, power lines were damaged during the fire. As of 4 p.m. MDT, West River Electric Association and West Central Electric Cooperatives reported no residential outages in the fire area.
One bridge was destroyed by the fire. There are currently no road closures in the fire area.
Low visibility from heavy smoke on Sunday afternoon contributed to a pair of separate chain-reaction crashes on I-90 west of Kadoka, that left a Wall woman with serious injuries.
According to the South Dakota Department of Public Safety, Karol Patterson, 61, of Wall, was airlifted to Rapid City Regional Hospital with serious, non life-threatening injuries suffered in a four-vehicle crash.
Patterson was a passenger in a 2009 Toyota Corolla driven by Gale Patterson, 64, of Wall, which struck the rear of a pickup driven by Daniel Walsh, 52, no hometown available.
Walsh's Ford pickup struck the rear of a 2016 GMC Yukon driven by Joseph Ryan, 77, no hometown available, which had pulled off on the right shoulder and slowed because of heavy smoke.
Patterson's car slammed into Walsh's pickup and then was hit by a fourth vehicle, a 2014 Ford Expedition driven by Kenneth Fisher, 77, no hometown available.
Ryan was not injured and a passenger Patricia Lacey suffered minor injuries. Walsh and Gale Patterson also suffered minor injuries. Fisher was not injured.
In the second crash, Jordan Edgcomb, 30, driving a 2015 Volkwagen GTI, struck the rear of a white sport-utility vehicle, which left the scene. Edgcomb, who told investigators he couldn't see because of the smoke, was not injured. The driver of the white SUV was not located.
Another fire update will be released at 10 a.m. today.
The unseasonably warm and dry October has meant a busy late fire season for firefighters with other blazes in the region.
According to the Great Plains Fire Information Center, the Battle Mountain Fire near Hot Springs, reported at 7:50 p.m. on Friday, was 100 percent contained at 7:30 p.m. on Saturday, after burning about 21 acres.
The Bald Wildfire, reported at 10:48 a.m. Sunday in the Bald Hill area between Pactola and Sheridan lakes had burned 2.75 acres and was reported contained about 1:30 p.m. Sunday.
Both fires are believed to be human caused, and are still under investigation.
The Rhubarb wildfire, near the Prairie Berry Winery two miles east of Hill City on Friday, burned a one-tenth of an acre and was caused by trees contacting power lines.
Firefighters from Rockerville, Whispering Pines, Rapid City, Keystone and Hill City responded to an early Sunday morning blaze that damaged an abandoned woodframe building.
Rockerville Fire Chief Gail Schmidt said firefighters were called at 4:41 a.m. to the report of a fire in what was a tourist attraction known as the Rockerville Ghost Town.
Schmidt said firefighters quickly quelled the blaze which caused damage mostly to the front of the building with some extension of fire into the interior of the building.
Firefighters had to haul water about eight miles from the Black Hills National Forest district headquarters south of Rapid City on U.S. Highway 16.
The state fire marshal's office is investigating the cause of the fire, Schmidt said.
The continuing dry conditions prompted Black Hills National Forest officials to cancel a planned prescribed burn set for today in the Whaley project in the Mystic Ranger District.
Back near Cottonwood on Monday, cattle owned by Poss and his father wandered aimlessly through miles of blackened pasture Monday morning. Smoke trickled into the air where hay bales had been stacked but continued to smolder on Monday.
Still, Poss remained positive.
"Actually, we feel pretty fortunate," he said. "It looks like I didn't lose any cattle and we could have easily lost our house."