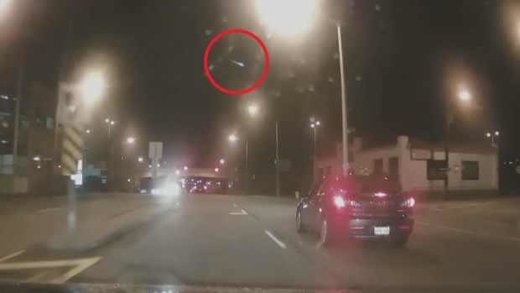 A bright streak of light crossing the sky over Ottawa-Gatineau early Monday morning has been reported by several residents.
Mary Dallimore was driving north along the Airport Parkway just before 6 a.m. after dropping her husband off at the airport when she saw it.
"There were no cars in front of me, no cars coming at me, no cars behind me and I had a clear view of the sky. It wasn't there and then it was there. It happened so fast. I saw this bright, bright, bright light go in an arc over the city, and then it just disappeared as fast as it came," Dallimore said by phone later Monday morning.
"I've never seen anything like it. It was brilliant and I hope to see something like that again."
'It was so close'
The bright light flew low in the sky, but didn't appear to cross the horizon, Dallimore said.
"It was low over the horizon. It wasn't high at all. And it was just like a brilliant fireball, I guess. It was quite exquisite," she said.
"I figured it was a meteor right away. ... It didn't appear like anything man-made coming across the sky. And it was so close, or it appeared so close, it was like standing on Parliament Hill and watching the fireworks. That's how close it was. I thought it was terrific.
"It was exciting, for an old lady! ... I was blessed, wasn't I? I'll buy a lottery ticket today."
Sightings reported on social media
Other residents reported the sighting on social media sites Reddit, Twitter and Facebook. Here are some of the Twitter accounts.