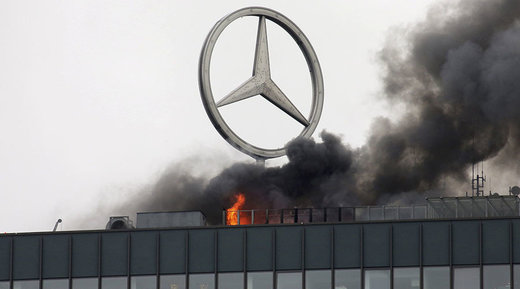 A fire has broken out at the Europa-Center building complex, one of Berlin's landmarks, reports on social media indicate. Photos and videos on Twitter show huge plumes of smoke rising from the roof of the high-rise.
Flames broke out on the rooftop of the 21-storey high-rise tower,
Berliner Zeitung
reported on Tuesday.
Bild
reported that a faulty air-conditioning system may be the cause, without citing a source. Around 68 fire-fighters have arrived at the scene, according to
Focus
magazine.
The first fire brigade entered the Europa-Center at approximately 2:05pm local time (12:05 GMT),
Berliner Morgenpost
reported. The area surrounding the building is now closed off, and the situation there remains
"strained but calm."
Gottfried Kupsch, who works at one of the offices in the Europa-Center, told
Berliner Morgenpost
that he and his colleagues escaped from the fourth floor after other colleagues told them to leave. The fire alarm did not sound, according to the newspaper.
Smoke detectors and fire alarms were not triggered as the fire broke out on the rooftop and did not affect the office spaces inside the building, Europa-Center manager Uwe Timm told the newspaper.
The historically-preserved building was constructed in 1963-65 and is 103 meters (338 feet) high.
The complex has a total floor space of 80,000 square metres.