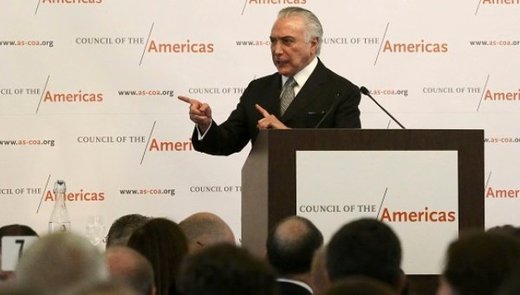 Brazilian President Michel Temer confirmed accusations that the coup had nothing to do with former president Rousseff's budgeting practices.
Brazilian President Michel Temer told a crowd of business leaders in New York that the parliamentary coup that ousted former President Dilma Rousseff was carried out in response to her opposition to a neoliberal program defended by his political party.
Temer had earlier claimed before the U.N. General Assembly that the coup that brought him to power followed the "constitutional order," as it complied with the impeachment process outlined in the country's constitution.
Rousseff was formally impeached over her budgeting practices, which were also widely exercised by previous presidents. Supporters of Rousseff sustained that the issue of budget practices was a smokescreen and that her impeachment was driven by political interests.
However, in his speech on Wednesday Temer did not mention Rousseff's budget practices but instead talked about her opposition to the neoliberal policies promoted by his party.
Temer, who was Rousseff's running mate in 2014, is not a member of the leftist Workers' Party but instead belongs to the centrist Brazilian Democratic Movement Party, known as the PMDB.
The de facto president told those gathering at the Council of the Americas that he and the PMDB had proposed a document called "A Bridge for the Future" approximately a year ago.
Comment:
The
Council of the Americas
was founded and chaired by David Rockefeller. It is composed of "leading international companies representing a broad spectrum of sectors, including banking and finance, consulting services, consumer products, energy and mining, manufacturing, media, technology, and transportation" that push for "open markets".
That document called for the Rousseff government to abandon the political mandate it was granted through its electoral win, and to adopt a neoliberal agenda that included cuts to social programs and benefits, an increase in the retirement age, and the privatization of state enterprises.
Temer then said that as a result of Rousseff's rejection of that program "a process, now culminating with my consummation as president of the republic, was initiated."
With that comment, Temer effectively confirmed accusations that the parliamentary coup had nothing to do with Rousseff's budget practices but rather the desire of Brazil's economic and political elites to implement neoliberal policies.
Temer's coup government has pursued a hardline neoliberal program, which includes freezing spending in social areas for 20 years and plans to auction off 32 major resource and infrastructure projects.
The coup regime has been criticized for pursuing a political program rejected by Brazilians in the previous election that saw Rousseff re-elected in 2014. Temer's cabinet includes many of the Workers' Party's political adversaries, including Jose Serra, whom Rousseff defeated in the 2010 election.
Temer is scheduled to complete Rousseff's presidential term until the next scheduled election in late 2018.