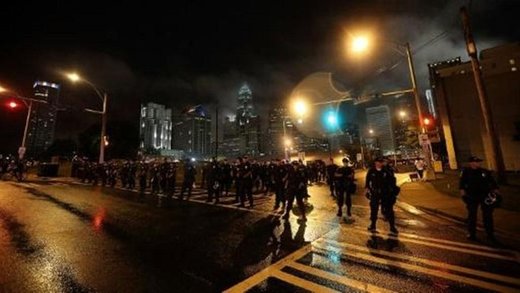 As demonstrators gather for a second night of protests in Charlotte, North Carolina, multiple witnesses have reported gunshots in the downtown area.
One person has been taken to a nearby medical center with life-threatening injuries. According to the city police chief, speaking to Fox News,
the victim has died
. Police in riot gear have amassed near the entrance to the Omni Hotel, where the incident took place.
A local NBC reporters claims to have seen blood on the ground and
police have deployed tear gas and flashbangs to disperse the crowd
.
According to the Charlotte Metropolitan Police, the protests are now considered an "unlawful assembly."
Authorities will begin using non-lethal crowd control measures
.
Streetcar service in the city has been discontinued.
At least 12 police officers were injured on Tuesday night
as demonstrators took to the streets to protest the shooting death of Keith Scott. The family of Keith Lamont Scott, 43, maintains that he had been sitting in his car reading a book when he was approached by a plain-clothed police officer and shot. Charlotte-Mecklenburg Police Chief Kerr Putney stated that while the officer was in plain clothes, he was accompanied by officers who were in uniform, and that a handgun, and no book, was found at the scene.