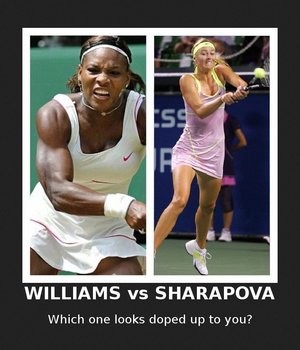 A hacktivist group claims it has uncovered files that show top American athletes including Serena Williams and Simone Biles took banned substances - although their respective sporting federations responded by saying the athletes did not break any rules.
The allegations were published on the website of the hacktivist group Fancy Bear, which described the revelations as being "just the tip of the iceberg."
The documents the group says it hacked from the World Anti-Doping Agency's (WADA) files contain information that

Serena Williams, one of the world's greatest ever tennis players, was taking a number of banned substances

.
Williams was allowed to take oxycodone, hydromorphone, prednisone and methylprednisolone in 2010, 2014 and 2015, despite the substances being placed on WADA's list of banned substances
.
However, the documents released also showed that Williams had been given special permission to take some of the drugs. The authorization was given by Dr. Stuart Miller from the International Tennis Federation (ITF).
Serena's older sister Venus was found to have taken prednisone, prednisolone, triamcinolone and formoterol, which are also on WADA's banned list
. However, she was given special dispensation to take the substances as long as she adhered to various conditions regarding the use of the drugs.
Meanwhile, American gymnast Simone Biles, who won four golden medals in the 2016 Olympics in Rio, tested positive for methylphenidate after giving a urine sample. However, like the Williams sisters, she was given special dispensation to take the drug.
RT has contacted the International Federation of Gymnastics for comment, with its representative saying the body followed the current rules and that there is "no problem."
"She [Biles] has a therapeutic use exemption, there is nothing we have to mention about that, everything is absolutely clear and according to the rules."
WADA has
released a statement
confirming the cyber attack. It noted that the cyber intrusion was conducted by a Russian hacker team and that it is taking the attack "very seriously."
Comment:
WADA
says
, in blaming "Russian hackers," that the cyberattacks were "an attempt to undermine WADA and the global anti-doping system." Sorry WADA, but no one needs to do that. Your already corrupt system can handle undermining itself just fine.
"The group accessed athlete data, including confidential medical data - such as Therapeutic Use Exemptions delivered by International Sports Federations (IFs) and National Anti-Doping Organizations (NADOs) - related to the Rio Games."
According to the body, the information was obtained "through spear phishing of email accounts."
An internal investigation has been launched, WADA said in the statement.