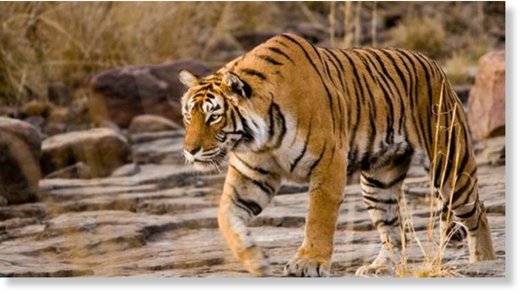 A man-eating tigress in Dudhwa National Park claimed its third victim on 30 August. A man was mauled to death by the predator near Dudhwa in Kheri district of Uttar Pradesh. The incident occurred in Cheedipur village and angry villagers pelted stones at forest officials forcing them to flee the spot. An official informed Catch that the man was walking back home when the tigress attacked him.
The animal killed its first victim on 19 August and villagers rushed to the spot forcing the animal to abandon its kill. A day later, the tigress killed another man near the same spot and devoured some of his body parts. Since then, there had been no attacks, but that changed on Tuesday.
The forest department along with World Wildlife Fund (WWF) and Wildlife Trust of India (WTI) have been making desperate attempts to track the animal, but to no avail. All attempts to capture the tiger have failed despite several teams working day in and out to locate the animal.
Camera traps have been installed inside the forest and in the fringe areas while multiple teams are scanning the forests on elephant backs to look for clues. A team of experts from Lucknow has also been roped in to assist these teams.
"We spotted a tiger hiding in a bush on 29 August. Attempts were made to force the animal out of the bush, but the animal didn't move. Since we couldn't confirm whether it is the same tigress, we didn't pursue further," said a forest official.
Incidents of man-animal conflict have been on a rise in Dudhwa and several people have lost their lives in the last few months to tiger attacks.
With many villages on the fringe of Dudhwa, villagers often venture into the forest for firewood or to take their animals to graze and come in conflict with wild animals.