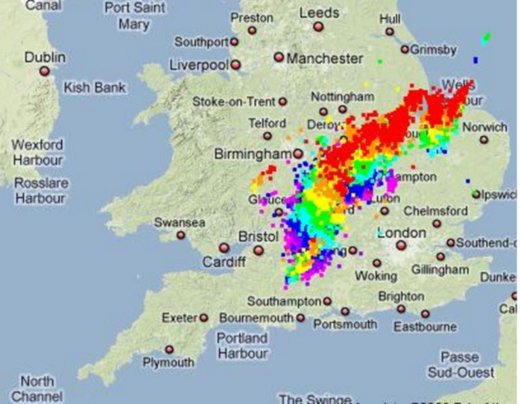 Extreme weather wreaked havoc across parts of the UK yesterday as golf ball sized hail stones rained down and the country was hit by a massive lightning storm.
Emergency crews have spent the day pumping out water from homes after a number of incidents were caused by a massive storm which rolled through the middle of England even taking down a supermarket roof.
Flash floods bringing rainfall of up to 50mm hit parts of the country as a ferocious lightning storm crossed the mid section and headed eastwards in the late afternoon.
The village of Kirkton was deluged in water as golf ball sized hail stones slammed down in the streets of Deeping in Lincolnshire.
They also pelted the ground from morning till afternoon in Oxford.
One man headed to his garden to get his tomatoes for lunch, only to find the stones and smashed his greenhouse.
Derek Holmes, 53, said: "It shows how big the hailstones were and how violent the storm was, it was incredible. I was shocked to see it had put a hole in the pane.
"We have got a conservatory with a plastic roof and it was hammering on that, it was extraordinary."
"They were certainly the size of large marbles and my neighbours had one the size of a golf ball," the writer added.
In other parts of the city, car alarms were set off and people's porches were flooded as the torrential downpour wreaked havoc.
Crews in Lincolnshire responded to a number of flooding incidents overnight in Skegness and surrounding villages, Boston, Kirton and Spalding.
Shoppers fled from Tesco in Boston, Lincolnshire as thunder and lightning battered the town.
The supermarket on New Hammond Beck Road has been evacuated. Shoppers were seen running from the building and trying to shelter from the rain.
Eyewitnesses reported hearing "a massive crack" as water poured through the ceiling.
Now Lincolnshire fire and rescue have confirmed they are operating across the region hoping to help those affected by the fall out.
A spokesman said: "Fire and Rescue assisted in pumping out a large number of homes and businesses in these affected areas."
Police reported "ghastly driving conditions" in east Lincolnshire with Chief Inspector Jim Tyner for operational policing across the region tweeting photos.
The Met Office says the worst of the conditions are over but there are likely to be outbreaks of thunder across the country.
A spokesman said: "Heavy and locally thundery rain will affect northern England at first.
"Further showers, heavy at times, will affect parts of Scotland, England and Wales, however most parts should see some warm sunny intervals, whilst some western parts stay mostly dry."
But they are warning motorists to be careful of fog tomorrow morning.
They continued: "Early mist and fog will clear to give a fine day with some warm sunshine for many. Cloud will thicken in the west with some rain across north-west Scotland later."
Emergency crews are working with families to pump water a large number of homes in Lincolnshire overnight after flash floods.
No one was available from the press office to confirm how many homes are affected because their offices are closed.