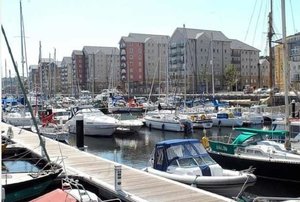 People have been left mystified into the cause of a series of late night 'explosions' near Bristol which caused their houses to 'shake.'
People living in the Port Marine area of Portishead reported hearing a number of
loud bangs and seeing flashes of bright white light
coming from the direction of Phoenix Way Saturday night.
The first explosion was heard around 7pm with others at around 10.30pm and 11.30pm. More were heard into the early hours of Sunday.
Some residents said the
explosions were of such force they 'felt their houses shake.'
Others said the flash of white light was so bright it lit up their rear gardens.
Some people reported hearing a 'whoosh' ahead of the bang and smelling cordite
- used as a propellant - in the air.
Initially local residents thought the noise may have been caused by someone letting off fireworks.
But this theory was quickly dismissed by many who said the bangs were too loud.
Local people took to social media site Everything Portishead on Saturday night to see if other people had been affected by the disturbance.
Resident Chris James posted: "Anyone hear that
enormous explosion/bang/blast
just now in Port Marine?
"Loads of people came out their houses on Phoenix Way and looking for signs of smoke or damage!
"Really weird, but really loud, shook the house.
"I saw the white flash. It lit up my garden.
"They were so powerful the cat ran out of the room and they made me jump and I'm watching tv with the sound up."
Sarah Mathias posted: " Didn't seem like a firework, just a bright flash.
"It made my dog shake and the later one woke up my son. Not impressed!
Initially it was thought that the bangs were coming from the nature reserve.
But a search of the site this morning revealed nothing suspicious.
A number of small power sub stations are located on the nature reserve which are managed by Western Power. However a spokesman for the company said there were no issues with the equipment on Saturday night.
Currently it is against the law to let off fireworks between 11pm and 7am except on Bonfire Night. Fireworks can also be let off until 1am on New Year's Eve, Diwali and Chinese New Year.