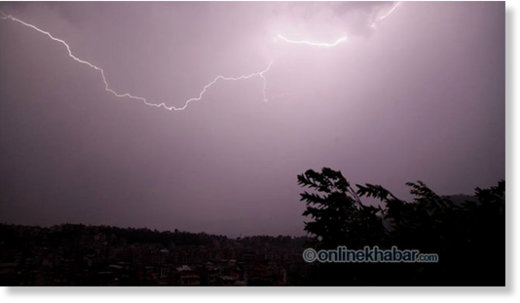 Lightning bolts killed four people and injured as many in different districts of the Eastern Development Region on Sunday.
In Kanchanpur VDC-4 of Saptari district, Laxmi Mukhiya (60) died on the spot while her grandson Dev Mukhiya sutained injuries when lightning struck them at their home on Sunday afternoon, police said. Dev is receiving treatment at a local health facility.
In Chhinamakhu VDC-4 of Bhojpur district, Rajiv Shrestha (18) died and Prem Shrestha (27) sustained injuries when a bolt struck him. The injured is receiving treatment at a local health post.
While in Katunje VDC-8 of Okhaldhunga district, Nirmaya Sarki (65) died after a lightning bolt struck her at her home, police informed.
In Deusa VDC-2, Solukhumbu district, Lal Kumar Rai (30) died and his three-year-old daughter got injured when lightning struck them, police said. While in Ilam, Ram Bahadur Rai (38) of Majhua, Deumai-3, sustained injuries when lightning struck him. Rai is under tretment at a local health facility.