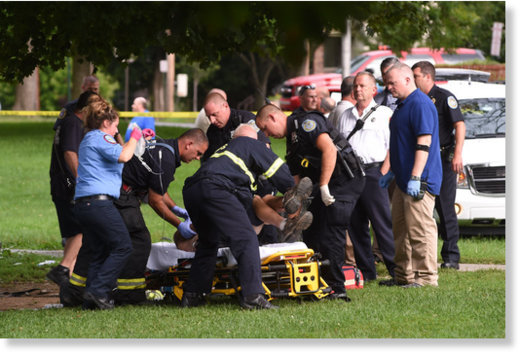 A lightning bolt that struck during a fast-moving storm
killed one person and injured four, two critically,
at a park in the center of Poughkeepsie, N.Y., on Friday afternoon, the police and the mayor of the Hudson Valley city said.
The most severly injured of the three unresponsive victims who had been taken to the trauma center at Vassar Brothers Medical Center in Poughkeepsie died Saturday around 1 a.m., a hospital spokesman, Tim Massie said. The man, who was not immedietely identified, was 50 years old, Mr. Massie said. The two others remained in the hospital's intensive care unit. All three were men in their late 40s to early 50s who had been sitting together on the same park bench, he said.
The other victims were taken to MidHudson Regional Hospital in Poughkeepsie. Their conditions were not immediately available.
The lightning hit at 4:06 p.m. at Mansion Square Park, a popular gathering spot, Mayor Rob Rolison said. The victims were struck on the north side of the park, the police said. The mayor said that there were scorch marks on a nearby tree and that wooden slats on the bench had been knocked off, an indication of where the lightning had struck.
Leading up to the episode, the skies darkened quickly in the area over the park and there were several loud thunderclaps, the mayor said.
Two witnesses reported seeing a bolt of lightning strike near the group, then smoke and fire, the police said.
So far this year, there have been 25 lightning deaths nationally, according to the National Weather Service, not including the death in Poughkeepsie. That number includes Richard Garlock, 34, and Jenea Macleod, 32, who were killed on Wednesday at a cemetery in Batavia, N.Y., according to the service.
Based on reported deaths and injuries, the service estimated the odds of any one person being struck by lightning in a given year at 1 in 1.2 million.