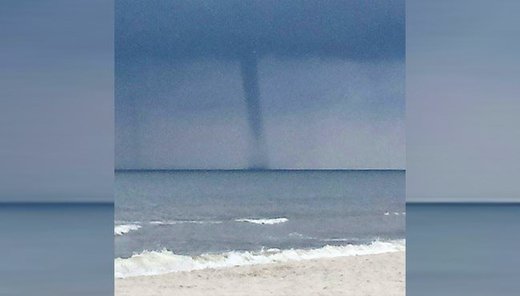 Mobile County was pounded by rain on Wednesday. There was some minor flooding along the roadways and in store parking lots, but what really caught attention was a big waterspout off Dauphin Island, and it was all caught on camera.
"It looked like some serious tornadoes were moving in," said Dauphin Island resident Michael Twilley, who took the video. "
It was huge. I've seen a bunch of waterspouts but I've never seen one that was two or three-hundred yards wide."
In the video, you can see the waterspout just miles away from shore. It proved a sight to see for residents and visitors on the island. "If you put your thumb up in the air you can see that's how big it was from a distance," said visitor David White. "Too close for comfort when you see something like that coming down."
White said he first saw the water spout when he was already on the water. "My wife and two daughters and I were on kayaks, so we just turned around and made a fast paddle back to the pier."
It was a smart move on his part - that's because water spouts can easily overturn boats and create dangerous conditions. After reports of several water spout sightings in Mobile Bay, the national weather service issued a marine warning. "We stood up on the house there and you can see off in the distance, there was another one trying to form but it never formed enough to come to the ground," said White.
Thankfully, no one was hurt. With scattered flooding along the roads and in parking lots, all residents had to deal with was minor aftermath from the heavy storms.
Watch video coverage
here
.