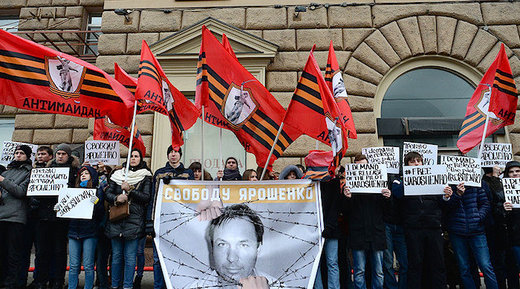 Family members of
Russian citizen Konstantin Yaroshenko
say they intend to protest his US sentence with various international authorities, while the pilot himself has branded the US justice system as "totalitarian" and accused its jailers of torture.
"The issue cannot be solved by diplomacy alone, we need harsh measures; we need to
file lawsuits in Strasbourg and Geneva.
There are a lot of structures that could make Barack Obama stop this," Lyubov Yaroshenko, the mother of the Russian pilot, told reporters. "There is a Council of Europe convention on prisoner handover, but the United States does not recognize this convention. But they will have to exchange him for someone," she added.
Konstantin Yaroshenko himself said in a video message played to reporters that there were
at least three fundamental laws signed by the United States that could allow for his transfer to Russia. These were the Vienna Convention, the International Covenant on Civil Rights, and the United Nations Convention against Torture.
"It is useless to try to take to court with this criminal system that has tortured me. I am a small pawn in a big game, a small link in a huge chain.
There is no democracy or human rights in the totalitarian regime of the United States, all it has is propaganda,"
Yaroshenko said in his address.
Russia's Foreign Ministry said earlier that it had
proposed an exchange
that would see Konstantin Yaroshenko swapped for US citizens serving sentences in Russia.
Yaroshenko was sentenced to 20 years in prison in the United States in 2011 for
allegedly participating in a conspiracy to smuggle drugs
into the country. The charges were based on the
testimony of US agents who had launched a sting operation against him.
He was arrested in Liberia and flown to the US without any official extradition procedure, despite protests from Russia and violations of the diplomatic code. The pilot himself has always maintained his innocence, and insisted from the very beginning that his case was not about drug trafficking. He says his
poor command of English
prevented him from understanding the nature of the
propositions made to him by undercover DEA agents.
Yaroshenko's defense team has repeatedly stated that the whole scheme was organized by US special services in an attempt to
extract evidence from the pilot that could be used against Viktor Bout, another Russian citizen who was also illegally extradited to the US and sentenced after a DEA sting operation.
In May of this year, Yaroshenko said in an interview with the Russian press that he would no longer appeal to American courts, as he considers them biased and politicized and does not expect justice.
Russia launched a criminal case against 11 US agents and four Liberian police officers in 2015 over suspicions that they had taken part in the sting operation that ended in Yaroshenko's detention.
The suspects were charged in absentia with kidnapping, threats of violence, and forcing a person to testify in a criminal trial by using intimidation or torture - crimes that are punishable by up to 12 years imprisonment in Russia.