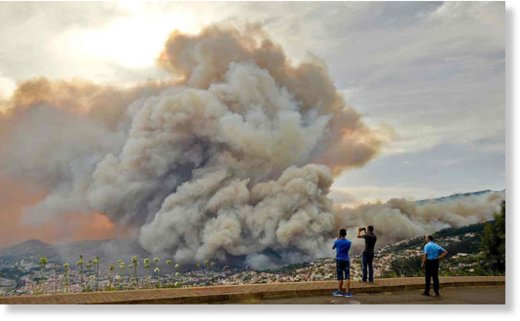 Three people have died, including an elderly woman, and more than 1,000 people have been evacuated after a wildfire tore across the Portuguese island of Madeira.
The woman, who has not been named, died after her house in the capital of Funchal caught fire.
Funchal, which has a population of 111,000, is a big tourist destination.
Several buildings were destroyed in the fire include a five star hotel, according to reports, while two people have been seriously injured.
A 24-year-old man was arrested on Tuesday, accused of starting the fire deliberately in the mountains of São Roque, just outside Funchal.
Judicial police sources told local media that the suspect "has a criminal record as an arsonist".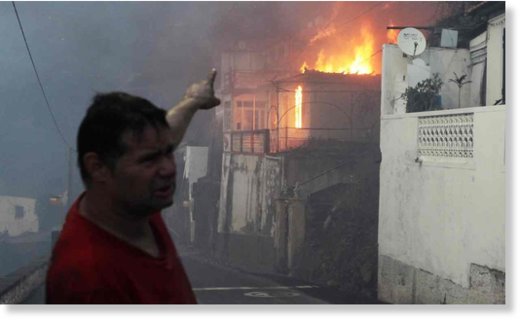 Several wildfires have been raging across the Portuguese region for several days, with police officials admitting on Wednesday that seven have become of control.
A team of more than 3,000 firemen are tackling the blazes with the support of 23 water-dumping aircraft.
However, Madeira's hilly terrain and deep woodland is making it difficult to get access to the worst-affected areas.
Miguel Albuquerque, the regional president , said on Wednesday that temperatures were cooling, which is expected to help put the fire out.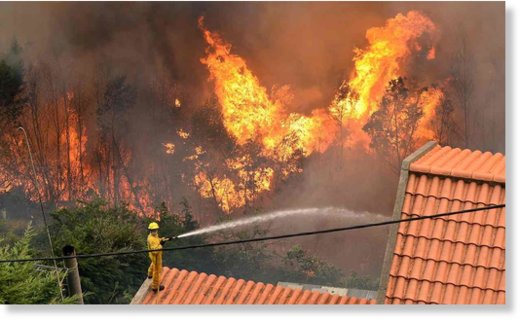 Some 125 fires have broken out on the Portuguese mainland, but these are thought to be less serious.
They appear to have been caused by a combination of high temperatures, parched woodland and strong winds - August is seen as the peak time for wildfires in Portugal and other southern European countries.
As well as advising people in areas threatened by the fire to leave their homes, the authorities have evacuated two hospitals and several hotels.
Around 600 people are being looked after in an army garrison building, 300 are in the city's Barreiros sports stadium, and 50 are at a civic centre.
The Madeira regional government has told public employees not to attend work in Funchal today unless they are considered essential in the firefighting and relief efforts. The aim is to avoid a large influx of people in the city centre.
Some of the worst affected areas are on the mainland in northern Portugal, where temperatures have recently exceeded 86F (30C).
Last Saturday, the hottest day of the year in Portugal, the temperature in some areas exceeded 104F (40C).