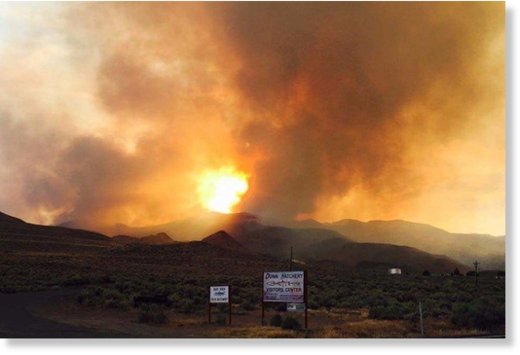 Several

lightning-sparked wildfires

grew in grasslands and brush in northern Nevada on Monday, where officials said about 800 firefighters were trying to contain a 78-square-mile fire near a tribal town and rural hamlets west of Pyramid Lake.
Another 300 firefighters were trying to prevent a nearly 8-square-mile wildfire from reaching a state highway in the remote and scenic Poodle Mountain Wilderness Study Area about 50 miles farther north.
In eastern Nevada, firefighters had about half of a 1.3-square-mile wildfire contained on public rangeland about 95 miles northeast of Las Vegas, Bureau of Land Management spokesman Chris Hanefeld said.
Near the largest fire, about 600 residents were allowed to return to the Pyramid Lake shoreline community of Sutcliffe after utilities were restored. They had been evacuated over the weekend, along with 200 people in beach areas. The lake remained closed to the public for boating, camping and recreation, said Scott Carey, Pyramid Lake Paiute Tribal business manager.
The fire destroyed six houses and mobile homes, two vehicles and several out-buildings
at historic Hardscrabble Ranch, and the Tribal Council issued a disaster declaration late Saturday to obtain resources from state and federal agencies, Carey said.
The burned area, in the Virginia Mountains west of the lake, was mapped at about 50,000 acres, or 78 square miles, fire spokeswoman Jesse Bender said.
Residents in about 30 homes in Cottonwood Creek and Fish Springs Ranch were told Monday that they would get a 30-minute notice to evacuate if necessary, Bender said.
"It's dry and hot, and we're expecting zephyrs," she said, referring to sometimes gusty winds that develop during summer afternoons in the high desert. Firefighters were being aided by bulldozers, helicopters toting water from the lake, and air tankers dropping fire retardant.
Crews reported 35 percent containment of the fires. Bender said one firefighter suffered an unspecified minor injury.
The complex included five fires, all burning within about 20 miles of each other.
A command center was established in the nearby California town of Doyle. A shelter was opened at a gymnasium in the Nevada community of Nixon.
To the north, land management bureau spokeswoman Terah Malsam said Monday that firefighters were fighting the Poodle Fire in rugged mountain canyons, aided by air tankers and helicopters.
No injuries were reported, and no structures were threatened. The fire was burning pinion-juniper, mahogany and grasses in the area west of Squaw Creek Reservoir and State Route 447. It started Saturday about 20 miles northwest of Gerlach.
Source: AP