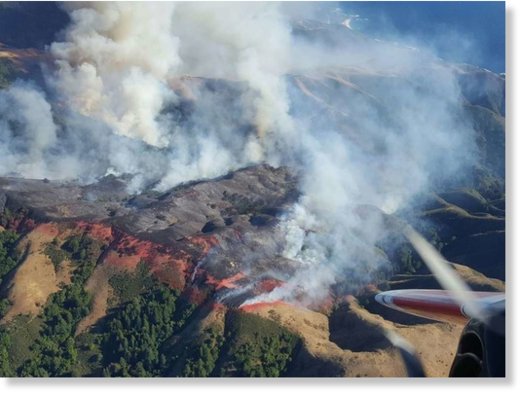 A wildfire burning south of Carmel in Monterey County grew to more than 11,000 acres Sunday, as residents were warned to be ready to flee while crews battle the stubborn blaze amid soaring temperatures.
The Soberanes Fire — one of about 10 wildfires burning around the state, including the Sand Fire in Los Angeles County — grew to 11,000 acres by Sunday night and remained only 5 percent contained, according to the California Department of Forestry and Fire Protection.
Six houses and two outbuildings were destroyed and 1,650 others are threatened by the fire that started Friday morning near Garrapata State Park between Carmel and Big Sur.
Residents in the community of Palo Colorado south of the fire were ordered to evacuate, while other residents, particularly those in Carmel Highlands, were told to get ready to flee in case the fire takes off, Cal Fire officials said.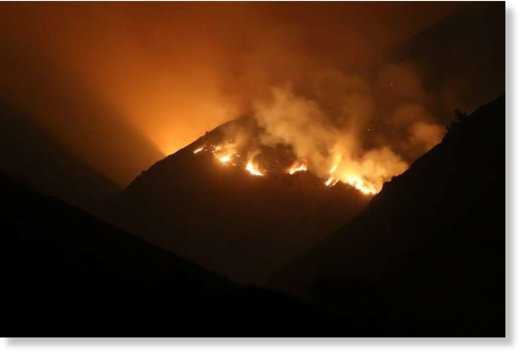 Palo Colorado and Weston Ridge roads were closed at Highway 1, and an evacuation center was opened at Carmel Middle School.
About 1,367 firefighters were battling the blaze, which is burning in hard-to-reach terrain near the city of Santa Clarita, making it challenging to cut and secure containment lines.
What's more, soaring temperatures and low humidity are forecast for the week ahead — conditions that could fuel the fire's spread, officials warned.
Satellite imagery posted by the National Weather Service's Monterey office Sunday morning showed the fire's intense glow around 3:25 a.m., while a thick plume of smoke billowed south along the California coast.
In Southern California, the Sand Fire has burned at least 22,000 acres — about 34 square miles — in northern Los Angeles County and is just 10 percent contained. That fire destroyed 18 structures in the Bear Divide and Sand Canyon areas and forced 1,500 people to evacuate.
Over the weekend, deputies said they found a burned body inside a car within the fire's evacuation area east of Santa Clarita.
The Sand Fire started Friday afternoon and is threatening approximately 1,500 homes and 100 commercial buildings.