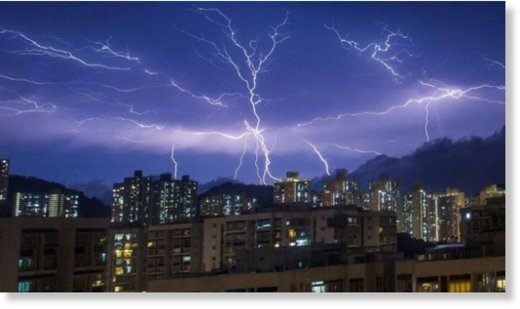 The city was hit by a
whopping 10,000 bolts of lightning during an epic 12-hour overnight thunderstorm
,
with even meteorologists taken aback by the intensity.
Hong Kong residents were barely starting to cool down from the hottest July day in half a century when the Observatory issued a thunderstorm warning at 6.45pm on Saturday, alerting the public to seek shelter and get off high ground.
In more than five hours up to 12am, the Observatory recorded 5,905 cloud-to-ground lightning strikes
, most of them hitting Lantau Island and the New Territories. An amber rainstorm warning was issued on top of that at 9.55am, as downpours lashed parts of Hong Kong with more than 30 millimetres of rain.
The rolling thunder and intense flashes continued into Sunday morning,
which saw another 4,095 bolts of lightning strike from cloud to ground.
Observatory scientific officer Tam Yee-ting said such a measurement was "very high" even for a summer storm and the figure had surpassed the record-high 24-hour total of 9,966 cloud-to-ground strikes in July 2005.
But because the storm spilled across two days, the measurements taken over the 12-hour period are unlikely to make it into the record books for most lightning strikes in a day.
About 3,122 cloud-to-cloud bolts of lightning were also counted in the two days.
"Saturday's high temperatures facilitated convection, which is the rising of warm air from the ground and this creates unstable air [in the upper atmosphere]. This provides the mechanisms for rain and thunder," Tam said.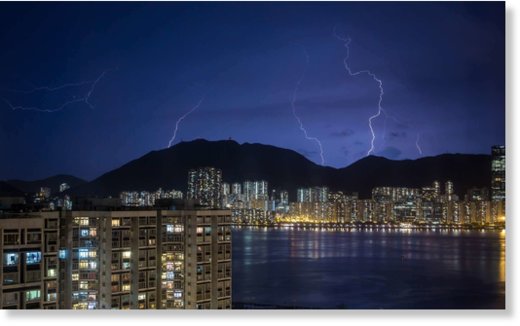 Weather photographers, professional and amateur, had a field day snapping pictures of forks of lightning piercing across deep purple skies, much of their work plastered on social media overnight.
On Sunday, the Observatory said the cloud bands covering the coast of Guangdong were thinning out gradually.
The outlook for Sunday and the early parts of the week ahead is mainly cloudy with showers.