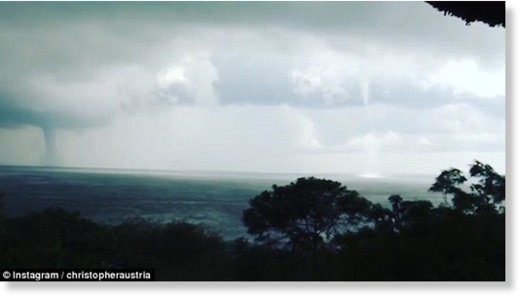 A wildlife photographer has captured the incredible sight of double waterspouts on Lake Victoria in Uganda.
Photographer Chris Austria, who lives in Ethiopia, was in Uganda filming chimpanzees at the animal sanctuary on Ngamba Island.
He said: 'This was an epic moment on Lake Victoria, the largest lake in Africa.
'I was so happy to capture this.'
In the video uploaded to Instagram last week two enormous waterspouts can be seen extending from the lake surface to the clouds.
Waterspouts fall into two categories: fair weather and tornadic, according to the US National Ocean Service.
Tornadic waterspouts are tornadoes that form over water, or move from land to water.
They have the same characteristics as a land tornado and are associated with severe thunderstorms, high winds, large hail and dangerous lightning.
Fair weather waterspouts form in light wind conditions so they normally move very little.
If a waterspout moves onshore in the United States, the National Weather Service issues a tornado warning, as some of them can cause significant damage and injuries to people.
Ngamba Island is home to 46 chimps that have been rescued from the illegal wildlife trade.