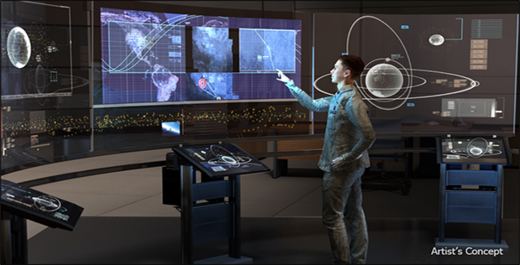 The latest venture for the Defense Advanced Research Project Agency (DARPA), the agency that provides the Department of Defense with their big guns, is an ambitious one: building a modern Star Trek -style 'Starship Enterprise' in outer space. DARPA's new Hallmark program is the first step toward building a U.S. military base of operations in a galaxy far, far away.
The first goal isn't building the ship itself, but rather developing the technology to survive in the extremely inhospitable environment that is deep space. Earth's operational space domain is violent and dangerous, with an immeasurable amount of objects and space garbage spinning around at thousands of miles per hour. "The scales and speeds in this extreme environment are difficult enough to grasp conceptually, let alone operationally, as is required for commanders overseeing the nation's increasingly critical space assets,"
DARPA explains
.
Current space situational awareness technologies are outdated, as they were created when space wasn't so crowded with objects like satellites, both new and old. This is why DARPA plans to simulate their enterprise software at a testbed in Northern Virginia first.
Brad Tousley
, director of DARPA's Tactical Technology Office, which oversees Hallmark, said he envisions a system that incorporates an intuitive user interface with 3-D visualizations.
In a
40-page proposal
outlining the purpose of the $16 million dollar program, DARPA clearly asserts their intentions to gain an intergalactic strategic advantage. "Space is increasingly important as a domain of strategic interest; however, nations and geo-political entities are developing the ability to exploit potential vulnerabilities and threaten U.S. freedom of action in space."
The threat of an impending satellite war is most likely the driving force behind the demand for space innovation. Fears of space warfare and weaponization were sparked in 2007 when China
blew up
a satellite while testing a new space weapon. In 2008, a Chinese satellite flew within 28 miles of the International Space Station without warning. A new
report
by the U.S.-China Economic and Security Review Commission claims the fly-by years back was a simulated anti-satellite attack.
According to
an annual Chinese Military and Security Developments
report
from the Department of Defense,"China is pursuing a broad and robust array of counterspace capabilities." However, China isn't the only country developing weapons to use outside of Earth's stratosphere. The
U.S. and Russia
are veteran players in the space race, both developing anti-satellite defense weapons which could raise diplomatic conflicts back on Earth. Russia and the U.S. have both previously tested anti-satellite weapons, one example being when the U.S. blew up a Chinese weather satellite during a test in mid-1980.
Destroying orbiting satellites is a possible strategy to interfere with research, development and intelligence efforts. Keeping space arms-free is a huge priority, but that is subject to change as Russia, China and the U.S. compete and heavily invest in space tech and exploration.
"When called upon, the U.S. military must have superior capabilities to rapidly plan, assess, and execute space operations in support of the full spectrum of military actions. Because the space domain enables and supports military operations in the land, sea, and air domains, space operations must also be integrated with existing and future military and intelligence operations in those domains," DARPA's proposal concludes.
For more information
read DARPA's full PDF report.