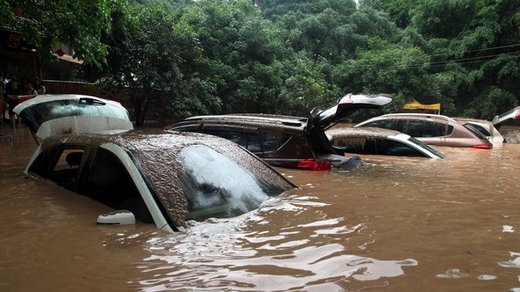 Millions affected and 20 missing as violent weather collapses homes - and authorities warn more flooding likely to hit Yangtze area later this month
Floods and landslides killed more than 20 people - and displaced 197,000 - in southern China over the weekend.
The Ministry of Civil Affairs said on Monday that 3.7 million people in seven provinces, including Hubei and Sichuan, and Chongqing municipality, had been affected. Twenty people were missing.
Some victims died when their homes collapsed in the storms.
The department of civil affairs in Anhui said three elderly farmers were killed in the ­province.
They included a husband and wife in Susong county whose house collapsed.
About 70cm of rain fell in some areas of the province in two days.
The civil affairs department in Hubei reported four deaths and 13 people missing. Nearly 800 houses had collapsed and 3,000 buildings were damaged.
The only victim confirmed to have drowned among those reported killed was in Jiangxi. Two people are also missing in the province.
The extreme weather was the worst to hit Hunan province in nearly two decades, according to its governor, Du Jiahao.
This summer, it had recorded the highest rainfall since 1998, Du said in an emergency meeting at the provincial government headquarters in Changsha. "This is a war,"
he told the
Hunan Daily
.
Huge flooding was likely to hit rivers and lakes in the Yangtze ­region in late June and July, ­national weather authorities warned.
They heavy rain had caused multi-billion yuan economic losses, local authorities said.
Flooding had destroyed communication links, power supplies and roads in many regions, they said.
The authorities in Hubei province said they had distributed materials including coats and mattresses to people in flood-hit regions, although supply might fall far short of demand as more than 35,000 people had lost their homes and were in need of urgent attention.
The heavy rain also caused massive delays for traffic.
Two trains with more than 600 passengers on board were trapped in a valley in Fuliang county in Jiangxi due to a landslide on Sunday.
Local people brought the passengers more than 1,400 bottles of drinking water and 1,500 bowls of instant noodles.
More than 2,000 passengers were stranded at the airport in Wuhan, Hubei province, on Sunday due to 75 flight delays or cancellations, according to China News Service.
Last year, sea currents in the eastern Pacific heated up considerably to form one of the strongest El Nino events in history.
This disrupted the circulations of air and sea currents in the whole Pacific, causing the rainy season in south China this year to arrive more than two weeks earlier than usual.