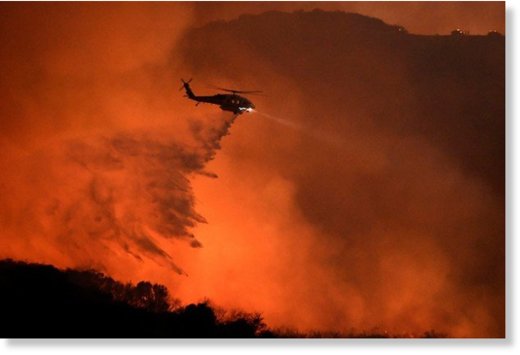 Consecutive years of drought have killed more tress, and recent rains have added to grass growth, which provides quick fuel for fires.
Five years of drought have dried up California's forests and the first six months of this year has seen twice as many acres burned as the same time in 2015,
the
Los Angeles Times
reported.
By Monday, about 400 firefighters working on the ground and in helicopters had extinguished one blaze in Calabasas, a neighborhood on the edge of Los Angeles. On Tuesday at least two other large fires in the state burned,
as the
Times
reported:
In the north, crews tackled the 3,200-acre Coleman fire as it tore through Los Padres National Forest, threatening several homes. Farther south in Calabasas, residents left their homes as flames consumed more than 500 acres. Fast-approaching flames forced a bride, groom and their guests to act quickly and move their entire wedding at the Inn of the Seventh Ray in Topanga Canyon to a nearby beach.
Already this year, more than 1,500 fires have burned 28,000 acres. In the same period last year, fewer than 11,500 acres had been scorched.
Part of the reason for this may be that more trees have died with the consecutive years of drought. Atop that, this winter and spring saw above-average rainfall compared with recent years, especially in Central California. It wasn't enough to subside the drought, but it contributed to grass growth, which is a quick source of fuel for fires.