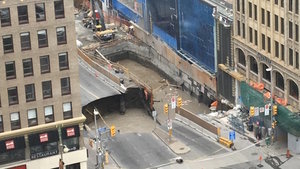 Mall evacuated, power out in area, police ask residents to avoid scene of the collapse
A massive sinkhole has formed next to a shopping mall in downtown Ottawa, causing a gas leak and forcing the evacuation of all nearby businesses.
The sinkhole formed near the corner of Rideau Street and Sussex Drive, not far east of the Chateau Laurier hotel. Soon after forming, it spread across the entirety of Rideau Street, from sidewalk to sidewalk.
A large volume of water could be seen gushing inside, but the water has since been shut off.
Power is out in the area, and Ottawa police are advising residents to avoid the scene.
On Sunday, Mayor Jim Watson sent a tweet announcing LRT excavation at the future Rideau Station was complete.
That portion of the road is currently under construction, and was only open to buses and taxis.
There are no reports of injuries.