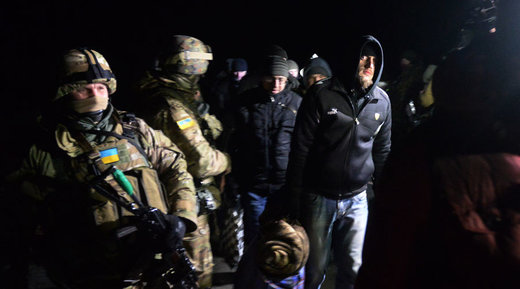 Ukraine's secret service,
the SBU, systematically uses torture, ill-treatment and intimidation, also running secret detention centers
, the UN human rights body says. It describes spiraling violence and abuse on either side of the two-year conflict.
The UN has documented
"hundreds of cases"
of illegal detention, torture, summary executions and ill-treatment of captives both by Ukrainian government and pro-Russian armed groups in the east, Ivan Simonovic, UN assistant secretary-general for human rights, told the
Times
in an
interview
on Friday.
He said the UN documents for the first time expose
the
"scale and brutality"
of Ukraine's government-run torture program as well as existence of five secret detention centers
.
In one case, Simonovic said, a suspect was picked up by
"masked men"
believed to be SBU agents. He was then
repeatedly shot in the head with a Taser pistol and had his left hand, head, back and knee smashed with a hammer
.
"He was forced to confess to being an armed group member on camera. Then his captors took him to the state security services where he was arrested,"
the official went on.
In another incident, he claimed, SBU operatives chained a man - allegedly member of a rebel group or a sympathizer - to a radiator, stifled him with a gas mask,
gave him electric shocks and waterboarded him while kicking and punching his genitals
.
Simonovic said that the UN had been forced to cease an anti-torture inspection last week as
SBU had denied it access to five secret detention centers
.
Last Wednesday, Sir Malcolm Evans, head of the four-member delegation of the UN's Subcommittee on Prevention of Torture (SPT) said in a
statement
:
"This denial of access ... meant that we have not been able to visit some places where we have heard numerous and serious allegations that people have been detained and where torture or ill-treatment may have occurred."
The head of the SBU, Vasily Gritsak, has denied the allegations, saying he allowed
"inspections of SBU pre-trial detention facilities,"
which did not mean that
"international monitors could visit local SBU units"
in area where the so-called
"anti-terrorism operation"
is going on,
Ukrainskaya Pravda
newspaper reported.
He claimed there are no detainees kept in captivity by the local secret service's units,
"but there are communications security equipment, weapons and [classified] documents."
The SBU later said it denied access for the UN observers because
"a Russian was taking part in the mission,"
according to the newspaper.
Simonovic also accused Ukrainian authorities of
"lack of substantial progress"
in investigating tragic events on southern port city of Odessa, where on May 2014 as many as 48 supporters of Ukraine's federalization were burnt alive in the arson of the House of Trade Unions.
Earlier on Friday, the UN human rights body, Office of the United Nations High Commissioner for Human Rights (OHCHR) released a comprehensive
report
on Ukraine. While criticizing the human rights violations by rebel groups in Donetsk and Lugansk, the two breakaway regions of Ukraine, it also took special note on
"hundreds of people accused of involvement in or affiliation with the armed groups"
by the Ukrainian authorities.
Ukraine has deliberately restricted
"fundamental freedoms and socio-economic rights"
to those living in the conflict area, and derogated from a number of important international treaty obligations, the report said.
The SBU denied the UN's allegations later in the day, RIA Novosti Ukraine reported.
"We don't use any tortures; the Security Service of Ukraine complies with the [national] legislation and all international human rights conventions and treaties,"
Elena Gitlyanskaya, spokeswoman for the secret service, told the news agency, adding that the SBU's chief, Gritsak, is set to meet with Simonovic on Friday to
"settle all issues that surfaced in the [UN] report."