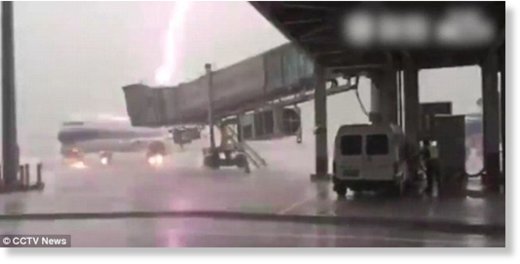 This is the spine-tingling moment a plane gets hit by lightning at an airport in China.
Footage shows the airliner light up as it is struck at Jieyang Chaoshan International Airport during a wild storm on Monday.
The bolt of lightning makes the plane, which was parked at the airport, and the wheels flash a vivid purple.
The six-second clip appears to have been taken from CCTV footage.
Southern Airlines authorities told CCTVNEWS that the plane was hit as it was preparing for an overhaul at the airport. There were no passengers or crew members on the plane.
It comes as American Airlines passengers were left shaken after their plane was struck by lightning in March and forced to make an emergency landing.
The Embraer 175 sustained apparent scorch marks on its tail wing when it flew through stormy weather on a 90-minute flight from Raleigh-Durham airport in North Carolina to New York.