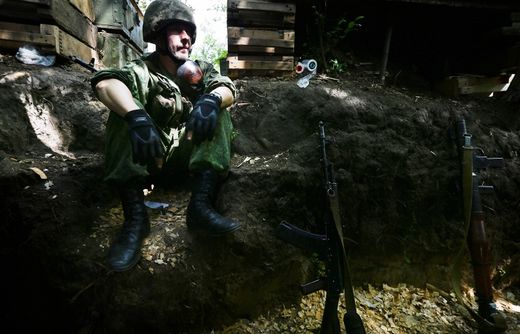 Ukrainian forces' shelling attack has caused a fire at a plant in Dokuchayevsk, located 20 km south of Donetsk, a source in law enforcement agencies of the self-proclaimed Donetsk People's Republic (DPR) told the Donetsk News Agency on Monday.
"Storage tanks in the territory of a stone dust plant caught fire as a result of the night shelling of Dokuchayevsk," the source said, without specifying information about possible casualties.
The DPR Defense Ministry reported earlier that the Ukrainian security forces opened fire on Dokuchayevsk on the night to May 30 using heavy artillery.
In addition, 230 shells were fired from mortars by the Ukrainian side overnight on the DPR areas are adjacent to the contact line.
"A total of 126 mortar shells of 82-mm caliber and 104 mortar shells of 120-mm caliber were fired from the Ukrainian forces' positions in the period from 18:30 to midnight.
The shelling attack of the Ukrainian battalions was aimed at the Spartak, Veseloye, Kominternovo, Kulikovo, Oktyabr, Yasmoye, Zaitsevo, Sakhanka, Dokuchayevsk, Yasinovataya localities, as well as the environs of the airport and Gagarin mine outside Gorlovka",
the source said.
Members of the Contact Group on settling the situation in east Ukraine agreed on observing Easter ceasefire starting from April 30. However, the self-proclaimed Donetsk and Lugansk republics (DPR and LPR) and Kiev forces continue accusing each other of violating the ceasefire regime in Donbass.