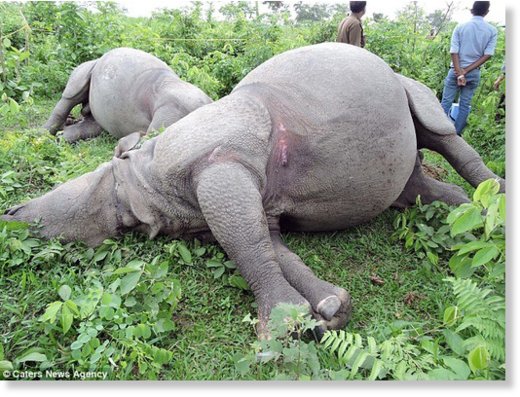 Three members of a rhino family have been killed by a lightning strike at an Indian national park.
A 27-year-old female, a 14-year-old calf and a baby rhino were found dead after they were struck
by a bolt that 'shook the ground' for miles, officials said.
The family had been living in the reserved forest in Gorumara National Park in India's West Bengal state for more than a decade.
Uma Rani, Jalpaiguri district's forest officer, said:
'The deaths were caused by lightning. It was an unprecedented accident.

'Some other animals have also died and we are checking the forests.'
Ajoy Sen, one of the guards in the forest, added: 'It is so disheartening to see the dead bodies of these lovely animals around.
'I still can't believe they are no more. Every guard in the forest loved the rhino calf the most.'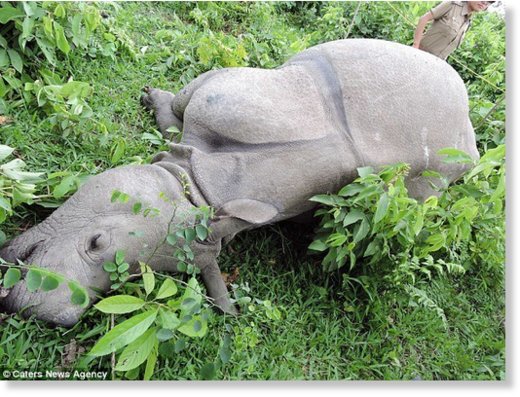 While deaths from lightning strikes are rare, India faces a constant battle against poachers at its national parks.
One was even killed just hours after Prince William and Kate Middleton had visited Kaziranga national last month to raise awareness about protecting the species.
Poachers killed the male rhino in Kaziranga National Park in Assam using high-powered assault rifles - and 88 empty cases fired from AK-47s were found lying near the slain animal.
All five of the world's rhino species are under constant threat from poachers seeking their horns to sell on the black market.
Demand is high in countries such as China and Vietnam, where people mistakenly believe consuming rhino horns can increase male potency.