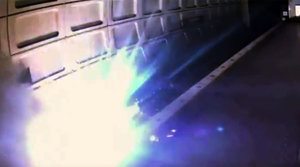 Washington, DC residents are bracing for extensive delays on Metrorail in the next year as system officials announced a major safety-improvement plan after
two fire incidents at a Metro train station closed two underground rail lines Thursday evening
.
Metro service on the Orange, Blue, and Silver lines was restored just prior to the Friday morning commute.
A fire at the Federal Center SW station on Thursday caused the closure of two stations near the US Capitol building and the offices of several federal agencies
. Metro sent shuttle buses to the stations affected, making for a complicated commute for many area residents.
The fire and explosion at Federal Center SW was caught on a security camera at about 4:30pm ET. WMATA general manager Paul Wiedefeld said the fire was caused by debris on the track.
"When I saw that, I said, 'I'm shutting it down, we're going to get in there and get those [porcelain insulators] out of there,'" he said,
according to WRC-TV
.
There was another fire incident at Federal Center earlier in the day, involving third-rail insulators, according to WMATA. There were no injuries in either fire, officials said.
The agency said that it replaced porcelain parts of the insulators with fiberglass components overnight, prior to reopening rail service.
"We have to attack it aggressively because we just can't go through this day in, day out," Wiedefeld said of the replacements.
In January 2015, a smoke-filled Metro train resulted in the death of one passenger and dozens of injuries. A track fire in March caused WMATA officials to close the entire rail system for a day
.
On Friday, Wiedefeld released a 'SafeTrack' plan that aims to address long-running concerns throughout the Metro system. The major overhaul would mean at least a year of intensive, accelerated maintenance projects, including 15 "safety surges" that are expected to hinder travel for long periods of time, WMATA projects.
"This plan is going to take some sacrifice from all of us," Wiedefeld said in a news release. "But it is clear that the current approach is not working, more aggressive action is necessary."