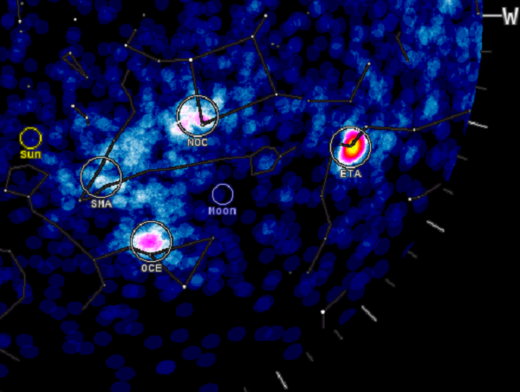 Earth is entering a stream of debris from Halley's Comet, source of the annual
eta Aquariid meteor shower
. Forecasters expect the shower to peak on the nights around
May 5th and 6th
with 30+ meteors per hour. The best time to look, no matter where you live, is probably during the dark hours before sunrise on Friday.
"Although the shower's peak is still days away, the Canadian Meteor Orbit Radar (
CMOR
) is already
detecting strong activity
from the eta Aquariid shower," reports physics professor Peter Brown of the University of Western Ontario. The pink "hot spot" in this all-sky radar map from May 3rd shows the location of the shower's radiant (ETA).
"Processing from last night shows more than 200 eta Aquariids with orbits loosely matching that of comet 1P/Halley," Brown says. "
The equivalent visible rates are about 40 per hour
- almost one per minute! Based on these numbers it is clear that sky watchers are in for a treat over the next few nights."
Got clouds? No problem. You can still experience this meteor shower by
listening
to it. Meteor radar echoes are being streamed live on
Space Weather Radio
.