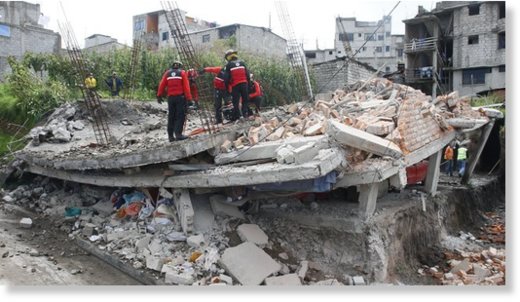 A magnitude 6.2 earthquake struck off the coast of Ecuador this morning,
just days after a major quake hit the country, killing nearly 500 people.
This morning's quake was centred 70km west-southwest of Esmeraldas
at a shallow depth of 10km,
the Pacific Tsunami Warning Center said, not far from the epicentre of Saturday's 7.8 magnitude quake.
Reuters witnesses in the zone said two strong tremors of about 30 seconds each were felt, waking people up and sending them racing them into the streets.
It was not felt in the highland capital of Quito.
There was no immediate word from authorities on the impact of this morning's quake.
More than 100 people are still missing from the weekend disaster, with rescuers losing hope of finding more survivors.
It was Ecuador's worst earthquake in decades.

It destroyed or damaged about 1,500 buildings, triggered mudslides and left about 20,500 people sleeping in shelters, according to the government.
Rescue teams had been using dogs, their bare hands and excavators to hunt through debris of flattened homes, hotels and shops in the hardest-hit Pacific coastal region.
Supervising rescue work in the disaster zone, Ecuador's President Rafael Correa said Saturday's quake inflicted $2bn to $3bn of damage to the oil-dependent economy.
"Let's not kid ourselves, it will be a long struggle. Reconstruction for years, billions [of dollars] in investment," said Mr Correa.
"In the short term, we're going to need tens of millions of dollars," he said from the quake-hit town of Tarqui.