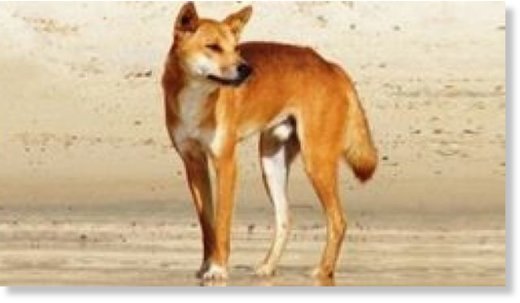 A dingo has been humanely euthanized after it attacked a tourist on Fraser Island last week.
Queensland Parks and Wildlife Service Sunshine and Fraser Coast Principal Ranger Ross Belcher said a tourist was bitten by the dingo several times in an incident at Eurong late on Friday afternoon.
"A woman was walking with her boyfriend on the beachfront at Eurong when they were approached by the dingo," Mr Belcher said.
"At first the couple thought the dingo was being playful but it then became aggressive and bit the woman four times, firstly on the back of the leg, just behind her right knee, and then three times on her left leg.
"The woman's companion then kept the dingo at a distance by placing himself between her and the animal and waving his thong at it until a passer-by in a 4-wheel-drive saw what was happening and rendered assistance."
Mr Belcher said the couple was able to clearly identify the dingo by its tag and
the animal had a history of concerning behaviour which had been escalating in recent days.
"Just one day earlier on March 31 this dingo approached a family who was fishing near Dili Village," he said.
"They were so concerned about the dingo's behaviour that they returned to their vehicles while two of the men tried to chase it away," Mr Belcher said.
"In a further incident on March 28 a police officer intervened when
the same dingo was observed running menacingly towards two young children estimated to be under ten years of age."
He said the police officer used his siren to distract the dingo, and drove the police car between the animal and the children to stop any possible attack.
The officer then reminded the children's father that he needed to more closely observe the dingo safe messages.
"Rangers have been conducting extended patrols in the Eurong area in response to the concerning behaviour exhibited by this animal and others from the same pack."
Mr Belcher said there had been eight 'Code E' incidents of high-risk behaviour involving dingoes on Fraser Island in 2016 and this dingo had been involved in four of them.
"Euthanasia is a last resort but the safety of visitors to Fraser Island must come first.
"It is vitally important that everyone on the island follows the advice of rangers when it comes to being safe around dingoes.
"The most important message for families with young children is the recommendation to stay in one of the fenced camping areas."