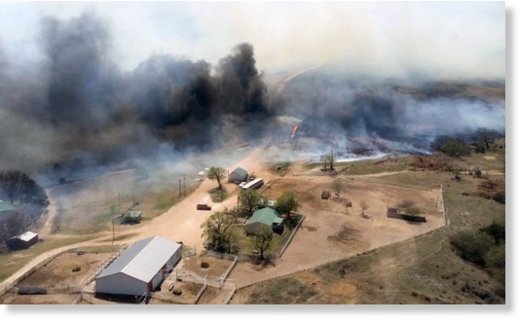 Firefighters trying to snuff out the biggest wildfire in Kansas history were getting help from military helicopters on Saturday - as well as a potential assist from looming rain or snow.
Two UH-60 Black Hawk helicopters from the Kansas national guard were deployed in the efforts to contain the
persistent prairie blazes that since Tuesday have charred at least 620 square miles in Oklahoma and southern Kansas.
At least two homes and some livestock have been destroyed. No serious human injuries have been reported.
Each helicopter has a 660-gallon bucket that will be used to dump water from local sources on to the flames, said Ben Bauman, a spokesman for the Kansas adjutant general's office. The national guard also was contributing a fuel tanker truck and another ground support vehicle.
Firefighters focused again on Saturday on Butler County, which is south-west of Wichita and where only 15% of the blaze that has scorched 427 square miles of the county has been contained, said Darcy Golliher, a spokeswoman for the Kansas incident management team.
The National Weather Service said the area where the fire has raged, which borders Oklahoma, may get one-tenth to a quarter of an inch of rain or snow on Saturday night or Sunday morning.
"There's still a bit of uncertainty about how much they could get," said Andy Kleinsasser, a meteorologist with the NWS Wichita office. "Hopefully they can get a decent dousing. Anything is better than nothing."
Source: Associated Press