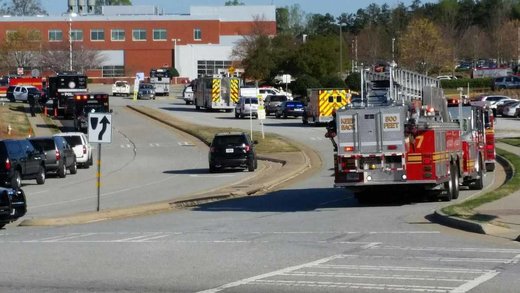 Emergency workers, including members of the local bomb squad and the FBI, crowded the Georgia Gwinnett College campus Monday after a
curious "explosion" in a women's restroom
injured a food-service worker.
The initial investigation by federal officials revealed that a "build-up of gases in a sewer line" appeared to a potential cause of the blast
, which happened in Building A near Collins Hill Road, according to school president Stas Preczewski. In underlined type, he stressed "There is no evidence or suspicion of foul play at this time" and no "explosive device" found.
"It may take some time to determine the exact cause, if one can be found," Preczewski said. "In the meantime, we are acting out of precaution by keeping the building closed as inspections and repairs begin."
Gwinnett County deputy fire chief Charles Wells also said authorities hadn't found anything suspicious, but the incident was under investigation.
All students were safe.
Many walked to class as usual late in the morning, passing the emergency vehicles and workers gathered outside Building A, which was cordoned off with yellow caution tape. The building was expected to be closed at least through Tuesday.
"Crazy day, man!" one young man said, walking through the gravel student parking lot where news crews setup shop for the morning and live broadcast antennas extended into the sky.
The drama began around 7:41 a.m.
The fire department was summoned to the school in response to a fire alarm.
Firefighters couldn't find anything, but, as they went to leave, they discovered "some type of explosion," Wells said.
"On-scene units requested additional resources and found a
female patient with burns and potential blast injuries
," the deputy chief said in a news release. "She suffered serious injuries and is expected to survive."
The woman, who works for GGC food-service contractor Aramark, hasn't been identified publicly.
The school sent students an alert at 8:40 a.m. The school said the explosion happened at 8:02 a.m.
By 11:30 a.m. fire trucks were leaving the scene, as was a HAZMAT unit.
The school's phone lines and Internet service went down when the power was shut off in Building A as a "precautionary measure," said Sally Ramey, a school spokeswoman.
The president praised all members of the "Grizzly family" for their response to the incident.
"Your resolve in the face of uncertainty is in keeping within our culture and demonstrates well what it means to be a Grizzly," he said, adding: "Please do keep your thoughts trained upon the rapid recovery of our fellow injured Grizzly."