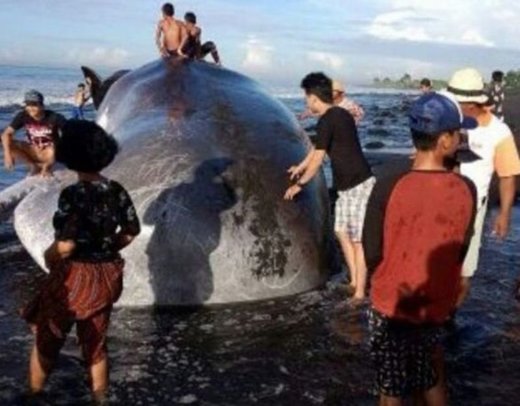 A beached whale, reportedly measuring 16.2 meters in length, was found in Klungkung, East Bali early on Monday morning.
Local fishermen Negah Sunarta, 37, and Nengah Darpa, 35, found the whale at Batu Tumpeng Beach, Gelgel Village when they were catching lobster.
"We usually look for lobsters on this beach. We were shocked with the whale. After we approached, it turned out to be dead," Sunarta said, as quoted in a report by Praise Sukiswanti, published by
Sindo News
.
The whale caused quite the commotion as hundreds of curious people apparently gathered around it to gawk and take pictures.
Unfortunately, as you can see from some of these photos posted to social media, the dead whale was not allowed to rest in peace right away as people saw a photo op and jumped right on.
Along with the many photos all over Bali social media, the presence of the poor washed up whale was confirmed by Klungkung Police Chief Arendra Wahyudi, who said on Monday afternoon that police were still coordinating with the Klungkung Department of Fisheries and Marine Affairs, the Natural Resource Conservation body (KSDA), and the Regional Disaster Management Agency (BPKB) to remove the whale from the beach.
A KSDA officer, Wayan Surata, told
Tribun Bali
that the whale was Physeter macrochepalus, or a sperm whale.
He added that he believes the whale was separated from its group and must have drifted off before it was stranded on the East Bali beach, that's part of the whale's migratory route.