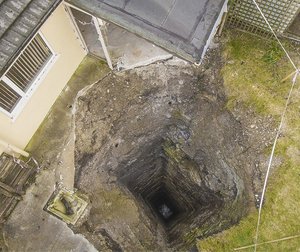 A massive sinkhole has opened up in Cornwall - only yards away from the back door of a house.
Footage captured by a drone shows the giant 300ft deep gaping hole outside the home in Scorrier, an area with a history of mine workings.
It appeared after a huge mineshaft collapsed next to the property.
Mark Thomas, who captured the video, wrote: 'A massive mineshaft opens up under a garage at a house in Scorrier near Redruth in Cornwall.
'This shaft is truly massive and is approximately 300ft to water and god knows how deep from there!'
Fortunately, the home it appeared under is unoccupied.
Stuart Dann, from
Mining Eye
, said that the discovery was totally unexpected.
'The hole opened up when experts were drilling down the patio. Both houses nearby are empty, which is a very good job.'
Dann added: 'Structural engineers are deciding the future of the bungalow but cracks suggest that it may be joining a flooded piece of history, hundreds of metres underground.'