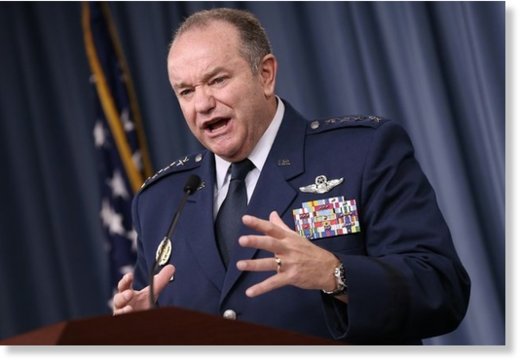 Vladimir Putin is purposefully creating a refugee crisis in order to "overwhelm" and "break" Europe, Nato's military commander in Europe said today.
Gen Philip Breedlove, the Supreme Allied Commander Europe and the head of the US European Command, said that President Putin and Syrian leader Bashar al-Assad had "weaponised" migration through a campaign of bombardment against civilian centres.
"Together, Russia and the Assad regime are deliberately weaponising migration in an attempt to overwhelm European structures and break European resolve," Gen Breedlove told the Senate Armed Services Committee.
"These indiscriminate weapons used by both Bashar al-Assad, and the non-precision use of weapons by the Russian forces, I can't find any other reason for them other than to cause refugees to be on the move and make them someone else's problem," he said.

Comment: The sheer scale of the lies in the above by the pusillanimous Gen. Breed-hate is almost astounding. It's the West that has caused the people of Iraq, Syria, Libya, etc. to seek refuge in Europe due to their imperial warmongering. The US has engineered the refugee crisis to destabilize Europe and demonize Muslims. Russia and Syria are working to stop the Empire from being able to continue their barbaric imperial ways and help stabilize the situation in the Middle East, and Breed-hate has the audacity to project all the Empire's actions onto them?!?!


Russia's ambassador to London, Alexander Yakovenko, acknowledged the link, writing on social media that the ceasefire in Syria involving Russian forces "will help alleviate the migration crisis in the EU".
The United Nations yesterday warned that Greece is on the "cusp of a largely self-induced humanitarian crisis", as European leaders stood firm behind a policy of choking off the Balkan migrant trail used by more than a million people to reach Germany last year.
Macedonia, a major transit country last summer, is now letting only a few dozen people through from Greece a day, a knock-on of Austria's decision to cap asylum claims. Yet 2,000 people a day still land on the Greek islands, and within weeks the bottleneck could reach 100,000. Thousands sleep in the open air at stations and in city squares.
"We have come to the time when Greece is likely to be sacrificed for the good of the EU," Robert Fico, the Slovak prime minister, said yesterday.
He said the Greek Prime Minister had brought the crisis upon himself for failing to set up EU-mandated processing centres.
"Tsipras, there will be one single hotspot and it will be called Greece," he said. "And it will be your responsibility because you did not do anything on the Turkish-Greek border."
Janti Soeripto, the chief executive of Save the Children, said children now make up a third of migrant arrivals, as families try to follow fathers and husbands who successfully made the journey to Germany last summer.
Austria's Chancellor, Werner Faymann yesterday kept the pressure on Balkan countries to halt the "unorganised chaos" by choking the route. His country will not become a "waiting room for Germany", he said.
Athens has asked the EU for £370 million in emergency aid, to be diverted from funds normally used for humanitarian relief in Africa, to care for up to 100,000 people. The government warns the country will become Europe's Lebanon and a "warehouse of souls".
"The crowded conditions are leading to shortages of food, shelter, water and sanitation. As we all saw yesterday, tensions have been building, fuelling violence and playing into the hands of people smugglers," said Adrian Edwards, a UN Refugee Agency spokesman.

Comment: All of the above has been created willfully by the US/NATO. Not only are they intentionally uprooting the lives of millions of innocent people for their own agenda, they then have the gall blame it all on Putin. Putin is the one who has been trying to reverse this horrible situation by going in to Syria to stop the West's proxy armies ISIS/Daesh/Jabhat al-Nusrah and restore some semblance of order.


Some 131,00 migrants arrived in Europe in January and February, figures show. Frontex, the EU border agency, said this was 30 times higher than the same period in 2015.
The border was reinforced yesterday with Macedonian special forces, deployed by helicopter, and water cannon. On Monday migrants were repelled with teargas after using a road sign to break open gates.
Yesterday 15 people were stranded on a four-metre wide strip of no-man's land between the border posts of Greece and Macedonia after unsuccessfully attempting to cross the fortified border.
"Macedonian police put us here and the Greeks don't want us back," said Yase Qued, a 16-year-old from Afghanistan.
Donald Tusk, the president of the European Council, yesterday urged for a return to open borders following a meeting with Mr Faymann. But Angela Merkel endorsed the Austrian-led shutdown, and denied the scenes in Greece were similar to the chaos in Budapest last year that led to Germany opening its doors to Syrians.
"There are accommodation possibilities," said Mrs Merkel. "In Greece, they should be used by the refugees."
"There is not a right for a refugee to say, 'I want to get asylum in a particular country in the European Union.'"
Mrs Merkel's personal approval polling climbed eight points last month to 54 per cent, suggesting she may have weathered the storm of public criticism she faced over asylum policy.
Last week Austria shut Greece out of a meeting of Balkan states to respond to the crisis, leading to accusations of "19th century diplomacy". Mr Tsipras said yesterday that Mr Faymann is in a "state of political panic."
"The far-right is rising above 30 percent ahead of presidential elections and this has led to spasmodic moves," he said.
Nikola Poposki, the Macedonian foreign minister whose country seeks EU membership, warned that efforts to hold back migrants risks a "serious conflict situation in the Balkans."
He added: "If you ask me, the easier thing to do for Macedonia is to simply pull out and let all the migrants cross its territory on the way to western Europe. It's precisely what the EU members states have been lobbying against. "