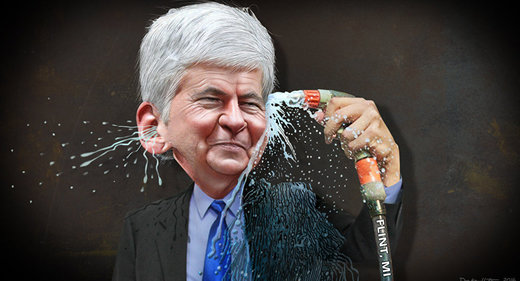 Despite a major uptick in cases of Legionnaires disease in the city of Flint, which has already left ten people dead, Michigan is refusing to test the city's contaminated water supply to conclusively link the bacteria to the likely source.
Legionnaires disease is a deadly waterborne bacterial infection that has infected 87 Flint area residents since June 2014. The average for Genessee County is around a dozen infections per year.
Michigan Governor Rick Snyder acknowledged the spike last month, but has stalled on testing the water to confirm that officials were not just poisoning the people of Flint with toxic levels of lead.
"There's investigations still going on to try and make that determination," Snyder said at the January 13 press conference. "But from a scientific or medical point of view, I don't believe that determination can be made today."
The Michigan Department of Health and Human Services claimed that water tests were impossible as they did not have samples of the bacteria from infected patients, though Detroit News determined that to be untrue, and called officials out on having samples from twelve patients.
"There is a limit to how many times you can play dumb when it comes to events and actions that take place on your watch," Michigan Democratic Party chair Brandon Dillon wrote. "This governor is either a victim of the culture of secrecy that he created or he's lying. If he didn't know, the incompetence is astounding. If he's lying, the betrayal of trust is unforgivable."
Dillon, like many others, is calling for Snyder to resign.
An additional report from the Michigan Department of Community Health, from May 2015, revealed that residents may not only have been poisoned by lead and Legionnaires bacteria, but also exposed to perfluorinated compounds
(PFCs), which were found in elevated levels in the Flint River. River water testing found that Perfluorooctane Sulfonic acids (PFOS), a compound used as a fabric protector and stain repellant, exceeded levels for both non-drinking and drinking water.
One of the PFOSs found was C8, which has been linked to health problems such as ulcerative colitis, immune suppression, and thyroid disease, as well as testicular and kidney cancers. PFOS is also linked to low birth weight.
The poisoning of Flint water began in April 2014, when the city stopped receiving its supply from Detroit, instead shifting to water taken directly from the Flint River, a source known to have a high corrosive salt content. Corrosive salts in the water damaged the pipes, which contain lead, causing that material to be released into the water, and contaminating it.
In October, the state changed the city's drinking water source back from the polluted Flint River to the Detroit water system, but warned that the water is still not safe.
The FBI has joined the US Postal Inspection Service, the US Environmental Protection Agency's Office of the Inspector General, and the EPA's Criminal Investigation Division, into the wide-ranging criminal probe of the Flint water crisis, to determine which laws were broken and who broke them.