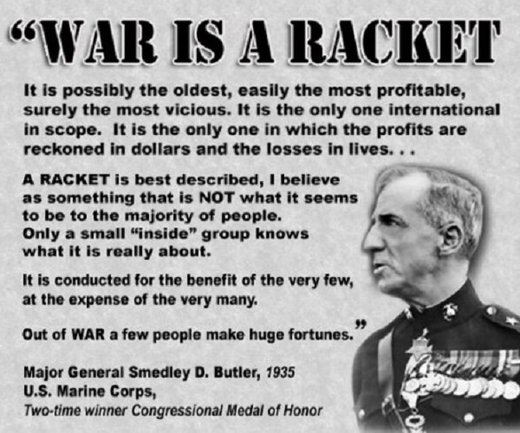 Since the conclusion of World War II, the United States and a number of Western European nations have maintained extremely costly military industrial complexes — both in peacetime and during the numerous other conflicts since. The United States is far and away the largest defense market, and U.S.-based companies disproportionately comprise the top global arms producers.
Global military sales from the 100 largest dealers totaled $401 billion in 2014,
down by 1.5%
— but still substantially higher than in 2002 — according to the latest estimates released by the Stockholm International Peace Research Institute (SIPRI). 24/7 Wall St. reviewed the 10 companies with the largest military equipment sales worldwide.
Lockheed Martin, with annual arms sales of $37.5 billion, maintains its dominant and long-standing lead as the largest corporate arms dealer in the world.
Lockheed Martin is one of only two arms sellers among the top 10 to have reported an increase in military equipment revenue in 2014. In an interview with 24/7 Wall St., Aude Fleurant, director of the Arms and Military Expenditure Programme at SIPRI, explained that the global decline was driven by weak economic conditions in the U.S. and Europe, where arms dealers have an outsized impact on global trends.
North America is by far the largest military market on the planet.
The continent spent $40.5 billion less on defense in 2014 than in 2013. The rest of the world spent $32.9 billion more in the same period, leading to a global decline of $7.6 billion in military expenditures overall.
These companies are truly massive and are by no means failing, however. Also, while sales at the world's top arms dealers declined, arms sales at other companies around the world are on the rise. "We're not exactly looking at the kind of creeping de-militarization by reduction of procurement budgets," Fleurant said.
Notably, Russian-based arms dealers Almaz-Antey and United Aircraft Corp. narrowly missed this year's list, at 11th and 15th respectively. The global drop in oil prices, as well as the depreciation of the ruble and international sanctions in the case of Russia, will likely impact sales next year. Fleurant added that even if sales from non-Western arms companies were to continue to increase, the list of top arms dealers is not likely to change substantially any time soon.
"[These companies] have been there for a very long time, they know how to do business in this market and they know what to expect. They're familiar with long cycles of production. Barriers to entry to any other company in this market are very, very, very high," Fleurant explained.
The arms industry is uniquely dependent on national governments. The weapons produced by these companies are extremely costly. One of Lockheed Martin's F-35 combat aircrafts, for example, costs nearly $100 million. Also, not only are governments frequently the largest customers of these companies, but also the majority of these sales need to be approved by government bodies.
"This is not an industry that works like any other," Fleurant noted. For these companies, "no big decisions can be made without approval from relevant authority."
While most of the world's top defense companies rely heavily on arms sales, this is not always the case. Arms sales comprise more than half of total sales for seven of the 10 companies. For Boeing, Airbus Group, and United Technologies Corp., arms sales comprise less than a third of overall revenue.
To determine the companies profiting the most from war, 24/7 Wall St. analyzed data provided by the Stockholm International Peace Research Institute (SIPRI) in its annual SIPRI Top 100, a review of the the largest arms-producing and military services companies by arms sales. Due to a lack of sufficient data, SIPRI excluded Chinese companies from the report. Employment data, profit figures, and arms sales as a percentage of total sales also came from the SIPRI report.
These are the 10 companies profiting the most from war:
1. Lockheed Martin (NYSE: LMT)
> Arm sales:
$37.47 billion
> Total sales:
$45.60 billion
> Profit:
$3.61 billion
> Employment:
112,000
Lockheed Martin sold $37.5 billion worth of military equipment in 2014, the highest arms sales figure in the world. The massive arms supplier has also been the most profitable in the world by a large margin since 2009. The company has managed to continuously widen the distance from its competition since then, and will likely continue to do so. Last year, Lockheed acquired helicopter manufacturer Sikorsky Aircraft from United Technologies Corp. for $9 billion. With the acquisition of the Black Hawk-maker, Lockheed's annual sales are expected to top $40 billion, and the company will become the world's top helicopter manufacturer. While arms sales are down globally due in large part to slowing sales from U.S. and Western European companies, Lockheed Martin's arms sales rose by 3.9% in 2014. Well over half of Lockheed Martin's $45.6 billion 2014 revenue came from sales to the U.S. Defense Department.
2. Boeing (NYSE: BA)
> Arm sales:
$28.30 billion
> Total sales:
$90.76 billion
> Profit:
$5.45 billion
> Employment:
165,500
Chicago-based Boeing trails only Lockheed Martin in total arms sales. Boeing's arms sales were also down from 2013 to $28.3 billion, a $2.4 billion decline. The global slowdown in arms sales is due largely to slipping arms spending in the United States and Western European nations, as well as poor economic conditions across the board, which likely also explains Boeing's sales drop. Military equipment sales accounted for less than one-third of the company's overall sales of $90.8 billion, one of the highest revenues of any company in the world. According to the company, it is the world's largest aerospace company.
3. BAE Systems
> Arm sales:
$25.73 billion
> Total sales:
$27.40 billion
> Profit:
$1.24 billion
> Employment:
83,400
BAE Systems is one of just three top 10 arms producers based outside the United States. Like most of these companies, BAE Systems, headquartered in the United Kingdom, operates all over the world. The company employs 83,400 workers in the UK, Australia, India, Saudi Arabia, and the United States. BAE Systems' principal market is the United States, followed by the United Kingdom. According to the company, more than one-third of its sales come from outside these nations. Aerospace-related products comprise BAE Systems' largest division, accounting for 50% of sales.
4. Raytheon (NYSE: RTN)
> Arm sales:
$21.37 billion
> Total sales:
$22.83 billion
> Profit:
$2.26 billion
> Employment:
61,000
In the wake of falling oil prices, the Great Recession and the resulting Pentagon spending cuts, a number of large defense companies have attempted to diversify their product lines. The nature of threats change over time, and defense contractors diversify to predict demands from unforeseen attacks. Raytheon is one such example, purchasing cyber security firm Websense in the middle of last year for $1.7 billion. While other contractors have also invested in the field, the recent purchase is by far the largest in at least a decade. Arms sales accounted for 94% of Raytheon's total revenue of $22.8 billion in 2014, one of the larger shares of any company in the world.
5. Northrop Grumman (NYSE: NOC)
> Arm sales:
$19.66 billion
> Total sales:
$23.98 billion
> Profit:
$2.07 billion
> Employment:
11,000
Northrop Grumman is the fifth largest military supplier in the world and the fourth largest in the United States. Northrop Grumman reported a sales drop of $540 million between 2013 and 2014. This was a relatively large decline even compared to North American and European defense companies, most of which reported sales drops over that period. Still, Northrop Grumman reported $2.1 billion in profit in 2014, the 12th most of any defense contractor. Recently, the company was awarded a contract to manufacture the E-2D Advanced Hawkeye aircraft for the Japanese military. Northrop Grumman is also tasked with developing the new Long Range Strike Bomber for the U.S. Air Force, a project notorious for its history of failed development attempts.
6. General Dynamics (NYSE: GD)
> Arm sales:
$18.60 billion
> Total sales:
$30.85 billion
> Profit:
$2.82 billion
> Employment:
99,500
Reporting $18.6 billion in arms sales in 2014, General Dynamics is the sixth largest military supplier in the world. Like many military contractors, General Dynamics has been losing sales since 2013, likely as a result of declining defense spending worldwide. Nevertheless, the company reported a profit of $2.8 billion overall in 2014, the eighth most of any defense technology manufacturer. Arms sales accounted for 60% of the company's total revenue, the rest of which consisted of aerospace and naval industrial products. The Danish government has been a long-time customer of General Dynamics. At the beginning of this year, the company won a contract to outfit the Danish army with military ground vehicles.
7. Airbus Group
> Arm sales:
$14.49 billion
> Total sales:
$80.52 billion
> Profit:
$3.12 billion
> Employment:
138,620
Of companies on this list, Airbus Group is the least dependent on arms sales. Its military equipment sales totalled $14.5 billion in 2014, just 18% of its total revenue. While Airbus Group was perhaps hurt less by the global decline in military sales, it has still struggled with the weakening world economy. The company's arms sales fell by $1.3 billion in 2014, one of the larger declines. In an interview with Reuters this January, the head of the group's helicopter division explained that deliveries will likely remain flat. Largely due to falling oil prices, deliveries, particularly to oil and gas companies, fell last year. Airbus Group still reported a profit of $3.1 billion in 2014. The company has also recently began adding new customers to its traditional client list. Airbus announced at the start of the year it would soon be providing helicopters to Uber Technologies.
8. United Technologies Corp. (NYSE: UTX)
> Arm sales:
$13.02 billion
> Total sales:
$65.10 billion
> Profit:
$6.22 billion
> Employment:
211,000
United Technologies Corporation reported $13.0 billion in arms sales in 2014, up $1.1 billion from 2013. The company is one of a handful of major military contractors that have been able to increase arms sales despite declining defense spending worldwide. Arms sales comprise just 20% of the company's total revenue, which also consists of aerospace, HVAC, and escalator technology. That share may shrink further, as the company has recently sold its Sikorsky Aircraft unit, the manufacturer of the Black Hawk helicopters used by the U.S. military. Sikorsky's former president will now head Pratt & Whitney, another of the company's aerospace subsidiaries. In 2012, the U.S. government fined Pratt & Whitney $75 million for violating the Arms Export Control Act by selling military technology to China.
9. Finmeccanica
> Arm sales:
$10.54 billion
> Total sales:
$19.46 billion
> Profit:
$27 million
> Employment:
54,380
Europe's third-largest military supplier, Italian, state-controlled Finmeccanica sold $10.6 billion worth of arms in 2014. Finmeccanica arms sales dropped by $20 million from 2013 to 2014, mirroring the broad sales declines among U.S. and European companies. Compared to this pattern, however, this was a very small decrease. Still, after a lengthy restructuring aimed at combating declining sales and low profits, Finmeccanica began 2016 under a new structure. After selling its transportation business and trimming other unprofitable endeavors, the company now consists of four primary divisions: helicopter, aeronautics, space, and electronic defense systems.
10. L-3 Communications (NYSE: LLL)
> Arm sales:
$9.81 billion
> Total sales:
$12.12 billion
> Profit:
N/A
> Employment:
45,000
U.S.-based L-3 Holdings subsidiary L-3 Communications edged French electronic systems company Thales out of 10th place this year. L-3 Communications' arms sales dropped to $9.8 billion in 2014 from $10.3 billion the year before. However, this was a relatively modest decline, especially when compared to other U.S. defense companies. As is typical among large defense companies, U.S. Department of Defense and other U.S. federal government contracts accounted for approximately 71% of the company's total annual sales of $12.1 billion in 2014. In addition to the U.S. government, L-3 Communications customers include foreign governments and domestic and international commercial customers. All together, arms sales comprised 81% of total sales.