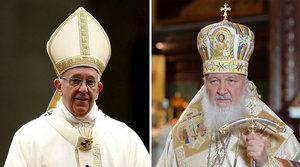 The head of the Russian Orthodox Church, Patriarch Kirill, is to meet his Roman Catholic counterpart, Pope Francis, during a historic visit to Latin America. The groundbreaking meeting is to happen in mid-February in Cuba.
The meeting between heads the two major Christian churches would be an unprecedented move to mend a millennium-long rift between the Western and Eastern branches of the religion, which started with the Great Schism of 1054.
Persecution of Christians in the modern world is the main issue for the two leaders to discuss, the Russian Orthodox Church said. Christians are among the minorities suffering at the hands of groups adhering to radical Islamist ideology in places like Iraq, Syria and Somalia.
In addition to Cuba, Patriarch Kirill's Latin American tour from February 11-22 includes Paraguay, Chile and Brazil. The meeting with Pope Francis will happen on February 12.
The pontiff will make a stop in Cuba on his way to Mexico.
For the Russian Orthodox Church the meeting will be the biggest foreign affairs event since reuniting in 2007 with the Russian Orthodox Church outside Russia after a 90-year split.