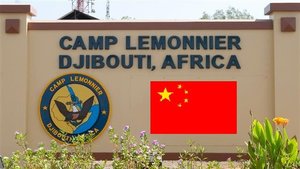 China and Djibouti have "reached consensus" regarding the construction of logistical facilities in the African state. The deal that has been hinted at for months has finally been confirmed.
Chinese Foreign Ministry spokesperson Hong Lei said Thursday that the new facility will give logistical support to China's fleet that performs
escort duties
in the Gulf of Aden and off the Somali coast.
Since May 2015, there were reports on possible talks between Djibouti's President Ismail Omar Guelleh with the Chinese over a possible military base. China's Foreign Ministry confirmed the negotiations for the first time in November of last year.
"China and Djibouti consulted with each other and reached consensus on building
logistical facilities
in Djibouti, which will enable the Chinese troops to better fulfill escort missions and make new contributions to regional peace and stability,"
The Diplomat
reported Foreign Ministry spokesperson Hong Lei as saying on Thursday.
Hong's comments mentioned the anti-piracy escort missions in the Gulf of Aden, which China partakes in as part of a United Nations-sanctioned international effort, the publication noted.
According to the spokesperson, China has faced great challenges in replacing soldiers and resupplying fuel and food to Chinese naval ships performing escort duties in the Gulf of Aden and the waters off the Somali coast.
The recent agreements between China and Djibouti are part of "efforts to implement the consensus reached at the Johannesburg Summit, in a bid to drive development in Africa," Hong said.
Further, Djibouti's strategic location at the crossing of the Red Sea and the Gulf of Aden is attractive to China for more than
military reasons
.
The country serves as an ideal spot for inclusion in China's "21st Century Maritime Silk Road," which will stretch from China to the Indian Ocean, the Gulf of Aden, and up the Red Sea through the Suez Canal to the Mediterranean
.